Ministry of Labor and Social Welfare Ensures Safe Working Conditions at NovaLink Maquiladora in Matamoros, Mexico
Press Release
•
May 30, 2023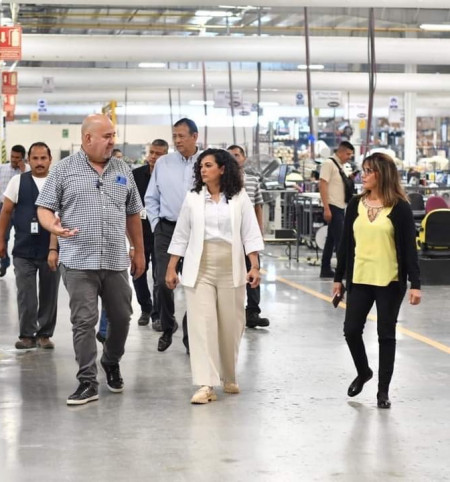 BROWNSVILLE, Texas, May 30, 2023 (Newswire.com) - Lic. Olga Patricia Sosa Ruíz, the Head of the Ministry of Labor and Social Welfare, recently conducted an official tour of the NovaLink maquiladora in Matamoros, Tamaulipas, Mexico. She verified the guaranteed working conditions for the more than 1,800 employed at this industrial complex. Lic. Ruíz has expressed a desire to get to know the companies under her jurisdiction. She accepted the invitation to visit the NovaLink Matamoros facilities during her statewide tour and see for herself the working conditions and culture built by the NovaLink staff.
Accompanied by José Ives Soberón Mejía, the General Director of the Labor Conciliation Centers in Tamaulipas, as well as Juan Villafuerte, the General Secretary of SJOIIM, Roberto Mattus, the General Director of INDEX Matamoros, and the staff from NovaLink, Secretary Ruíz conducted an extensive goodwill inspection of the facilities.
Secretary Ruíz stressed the importance of upholding labor rights as a cornerstone of labor humanism. She highlighted the directive of Governor Américo Villarreal Anaya to foster collaboration among companies, unions, and workers. Secretary Ruíz had the opportunity to meet many NovaLink employees during her tour as well as meet and discuss current issues with Roberto Hinojosa, Head of Human Resources, and Jason Wolfe, President/CEO.
"It was a great pleasure to have Secretary Ruíz select NovaLink as a company she would like to visit. We take our role in the Matamoros community very seriously and are honored to have received such high praise from Secretary Ruíz and her office. I enjoyed the opportunity to discuss issues facing our community that have the potential to stifle growth and how I feel she could play a major role in assisting our city and the state to be the recipient of the many growth and infrastructure opportunities that are present. I look forward to working with Secretary Ruíz and sharing ideas on how we can improve the relations between the government, unions and companies in our state," said Wolfe.
Expressing satisfaction with NovaLink's productivity and commitment, Secretary Ruíz commended the company for providing nearly 2,000 families with decent and secure employment. She also highlighted the exemplary Tamaulipas workforce, both men and women, who contribute to the company's success.
"We are very pleased to see such a productive Mexican company established in Matamoros and providing decent and safe work for almost 2,000 families, and this is also due to the high quality of the Tamaulipas workforce, both men and women, who work in a committed and professional manner," said Secretary Ruíz, referring to the NovaLink workforce, where women are the majority with 60 percent of the total workforce.
NovaLink is a best-in-class solution for domestic and international manufacturers seeking operations with proximity to the U.S. For information on NovaLink, please visit their website: https://novalinkmx.com.
Source: NovaLink
Tags