Ministers Learn Practical Skills to Resolve Life Problems
Scientology Volunteer Minister works with Christian pastors to provide them the tools they need.
Press Release
-
Jun 29, 2016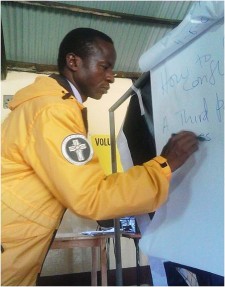 Kisii, Kenya, June 29, 2016 (Newswire.com) - ​​It's a 2-hour drive from Tanzania to Kissii, Kenya, but when the archbishop of a Tanzanian Christian church heard of the Volunteer Ministers seminar planned at the Masanga Holy Spirit church in Kisii, he decided to attend. And he was very glad he did.
The seminar covered four subjects from the Scientology Handbook. They were:
Integrity & Honesty: On the simple mechanism that makes people withdraw from relationships, families and groups. It contains simple tools to help others regain their

integrity—and

their zest for life.
The Components of Understanding: Enabling the student to help others who are experiencing the upsets caused by misunderstandings. Differing viewpoints, broken relationships and other ills that spring from a failure to understand can make life a string of successive hardships.
The Cause of Suppression: Helps the individual see through the complexities of human behavior and discover the underlying factors in suppression. Trains them to recognize people who wish them ill. Helps them decide who should be their friends...and who should not.
How to Resolve Conflicts: Educates the student in a fundamental and natural law of human relations that explains why conflicts between people are so often difficult to remedy. It provides an immensely valuable tool that enables one to resolve any conflict, whether between neighbors, co-workers or even countries
The Volunteer Minister began each session by playing a film from The Tools for Life DVD. These films and free online courses in this technology include practical exercises where the students put the tools to use helping others. The online courses are supervised by trained Scientology Volunteer Ministers who can direct the student to the answers to any questions they have and help ensure they are successful in the application of the technology. They are available through the Volunteer Ministers website and on Scientology.org.
The Kissii seminar was a success and a follow-up program was scheduled for next month to train the ministers in tools to resolve marriage problems—a skill they said they really need as each of them has had to intervene before marital difficulties escalated into violence. 
The Volunteer Ministers program was expressly intended for use by Scientologists and non-Scientologists alike. Anyone of any culture or creed may train as a Volunteer Minister and use these tools to help their families and communities. And all are welcome to do so.
Source: ScientologyNews.org
Share:
---
Categories: Religion, Faith, Education
Tags: conflict resolution, free online courses, Kenya, marriage, relationships, Scientology Volunteer Minister, understanding
---