Millions Raised for Cancer Charity
Press Release
•
updated: May 18, 2017
Jansen Display's Stephanie Smith & Cheriee Godolphin Complete the London MoonWalk, Raising Vital Funds for Walk the Walk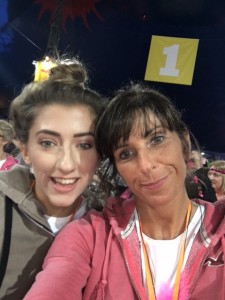 London, United Kingdom, May 18, 2017 (Newswire.com) - May the 13th saw the famous nighttime Walk the Walk event return for another year. Thousands of walkers spent the night walking around Clapham Common to raise money and awareness for breast cancer. Over 3,000 volunteers helped to make the fundraising event happen, and what started out as a one-off fundraising event in New York over 20 years ago has grown into a multi-million-pound charity, raising in excess of £113 million to date for vital breast cancer causes.
Breast cancer is close to the hearts of Jansen Display's (UK Sales Advisor) Stephanie Smith and (Trade Sales Manager) Cheriee Godolphin. Steph's aunt beat breast cancer and is doing well, while sadly Cheriee lost her dad to cancer when she was just 21, and both do what they can for cancer-related charities.
Raising in excess of £113 million to date for vital breast cancer causes
Through taking part in the London MoonWalk, Steph and Cheriee have raised over £350 and counting as donations continue to come in.
Walk the Walk is the UK's largest grant-making breast cancer charity. As a grant charity, monies raised are distributed as grants to other charities and organisations to help them reach their goals and ambitions in a bid to tackle the most common type of cancer in the UK.
For further information, please contact:
Simon Godolphin
Jansen Display
Tel: 01480 479231
Email: simon.godolphin@jansen-display.com
Web: www.jansen-display.co.uk
About Jansen Display:
Jansen Display is Europe's leading manufacturer of Aluminium Snap Frames, Outdoor Poster Frames, A Boards & Pavement Signs, Illuminated Light Boxes and Menu Stands for Visual Communication, as well as Indoor and Outdoor Lockable Notice Boards, Whiteboards, Pinboards, Mobile Flipcharts and Whiteboards. They also offer Acrylic Brochure Holders and Leaflet Stands, Glass Display Cabinets, Banner Systems, FloorWindo & DeskWindo poster frames, Rope Stands & Queuing systems, Outdoor Ashtrays & Smoking Tables, Bicycle Stands, Chalk Boards and Literature Stands with the majority of products available straight from stock.
Source: Jansen Display
Related Media