Millennium Exploration Celebrates 10th Anniversary
San Antonio based energy company celebrates a decade of business growth, innovation, and excellence.
Press Release
-
Aug 3, 2016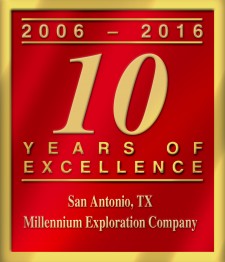 San Antonio, Texas, August 3, 2016 (Newswire.com) - Millennium Exploration Company, a privately held oil and gas operator specializing in Texas Gulf Coast Basin exploration, celebrates its 10th anniversary of operations today. A decade of experience has transformed Millennium Exploration from a new venture with big ideas into a successful enterprise with holdings across 25 Texas counties. Since its founding, Millennium has represented business partners from 35 states and 3 countries in over 70 oil and gas exploration ventures.
"Over the past 10 years, Millennium has remained strong throughout many changes in our industry's political and economic climate," said Richard Monroy, who founded Millennium Exploration on July 28, 2006 and serves as the company's President and Chief Executive Officer. "Millennium's standards for craftsmanship of deals, attention to every detail, unrelenting focus on precision and accountability to our partners are the fundamentals which I attribute to our ongoing success."
Millennium Exploration has won industry recognition as a trendsetting and innovative organization with traditional values. This firm has worked diligently at delivering a dependable platform for talented oil and gas exploration professionals to bring their prospects for sponsorship, and a trustworthy partner for private and corporate investors.
Source: Millennium Exploration Company
---
Categories: Investments, Energy, Geology
Tags: energy, exploration, gas, millennium, millennium exploration, monroy, oil, oil and gas, richard monroy, texas
---