Milestone Announces M.T. Ray as Key Talent Strategy Executive
Press Release
•
Mar 24, 2022
Experienced recruiting professional joins Milestone HR Strategic Services team to focus on Talent Strategy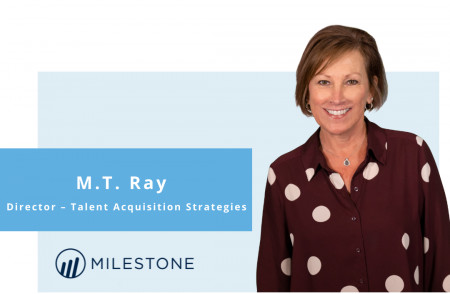 INDIANAPOLIS, March 24, 2022 (Newswire.com) - Milestone is pleased to announce that M.T. Ray has joined the Strategic HR Services practice to lead the Talent Strategy group. M.T. is a seasoned Talent Acquisition professional who brings a broad range of experience to her new role. Ray will partner with companies of all sizes to design talent strategies that help them attract and recruit the right talent. Ray has a track record of helping companies establish employment brands, recruiting processes, and talent assessment strategies.
"Companies today need to differentiate themselves in order to attract the best talent. Building an employment brand that reflects who they are, and having a hiring process that is candidate-focused is key to winning. It is a candidate's market, you need to remember that," says Ray.
Ray brings over 20 years of Talent Acquisition and HR experience to her new role. She played a pivotal role in the success of ExactTarget, where she led the Global Recruiting team implementing a progressive global recruiting model that fueled amazing growth, while also reducing costs. Upon acquisition by Salesforce, she transitioned to the VP Employee Success Indianapolis for Salesforce, their second-largest location, where she played an instrumental role in engaging and retaining talent. M.T. would go on to join High Alpha as their first VP of Talent, as well as Cheetah Digital as their Global Head of HR. Each position broadened her business acumen giving her exposure to large corporations, startups, VCs and Private Equity. Tom Gabbert, Milestone's CEO, thinks that M.T.'s breadth of experience will be an asset to their growing client base.
"We are thrilled to have someone of M.T. 's caliber joining the Milestone team," says Tom Gabbert, CEO and Co-founder. "We have seen an explosion in demand for Talent Acquisition Services and Strategy, and we are confident M.T. can help our clients navigate this new talent landscape."
Milestone launched the Strategic HR Services practice last Fall to complement their existing fractional HR Services offerings. HR veteran Jill Lehman leads the practice and is known for building winning teams. "HR of today, is not HR of the Future", says Lehman. "The future of HR is a combination of in-house, outsourced, and fractional resources working together with the CEO, Finance, and throughout the organization to help the business win and grow. Our goal at Milestone is to set up teams for success, at a fraction of the cost of hiring it in-house."
The Strategic HR Services team has extensive experience in all areas of HR. They will partner with C-suite leaders and/or as an extension of HR teams to help them meet their business goals with fractional HR leadership, HR Assessments, HR Strategy, and/or other HR project work in Talent Acquisition, Talent Development, Total Rewards, and Team Effectiveness.
"Companies today need to think more strategically about their HR function," says VP HR Services and Milestone Co-Founder Brenna Whitaker. "You need a culture where people are the foundation of your future success, and Milestone has the ability to help get you there."
Milestone has assembled a team of industry veterans and thought leaders to build a high-end fractional services firm that focuses on customized Accounting and HR solutions. Founded in June 2020, Milestone has grown to 42 team members in five states while capitalizing on the increasing demand for fractional services.
Contact info:
info@milestone.inc
866.810.0165
Source: Milestone Business Solutions