Midwest Entrepreneur Micaela Brown Has Been Selected for the Prestigious Society of Leadership Fellows at St. George's House at Windsor Castle
Press Release
-
updated: May 23, 2018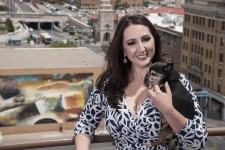 ALBUQUERQUE, N.M., May 23, 2018 (Newswire.com) - New Mexico entrepreneur Micaela Brown has been selected for an exclusive international fellowship organization - 2018 Society of Leadership Fellows at St. George's House at Windsor Castle. The 250 Fellows chosen include top CEOs and leaders from the United Kingdom and United States private and nonprofit sectors.
Founded in 1966 by H.R.H. The Duke of Edinburgh and the then Dean of Windsor, Robin Woods, St George's House is "a place where people of influence and responsibility in every area of society can come together to explore and communicate their views and analysis of contemporary issues." Society of Leadership Fellows events at Windsor Castle will launch on June 1 with events happening throughout the year.
"I am honored to have been selected for the 2018 Society of Leadership Fellows at St. George's House," says Brown. "Being chosen among the top private sector and nonprofit leaders in the United Kingdom and the United States is humbling. I'm very excited to begin the program."
In 2016, Brown founded both Inspire People Media, LLC, the most influential experiential event marketing and event production agency in the Midwest, and Blush & Whimsy, a cosmetics company that produces magically inspired products. Blush & Whimsy's first product offering, a lipstick line that changes color based on the pH and temperature of an individual's skin, went viral soon after its launch. Her lipsticks were selected to be included in the Oscars, GRAMMYs and Cannes Film Festival celebrity gifting.  
One of the things Brown is most proud of with her company is that Blush & Whimsy is a social enterprise. Blush & Whimsy partnered with Adelante Development Center, Inc. to handle all of their packaging, fulfillment, and shipping. Adelante hires thousands of New Mexicans with mental, physical, and developmental disabilities as well as disabled veterans and the elderly.
Previously, Brown was an international trade and development consultant in Washington, D.C. with Target Market International, LLC, a USAID contractor for Chemonics International, and an International Trade Specialist with the International Trade Administration. She was also a paid intern at the U.S. Embassy to the Holy See in Rome, Italy.
Brown is a 2014 British-American Project Fellow and a 2017 Fellow of The Royal Society of the Arts. For more information about Brown, visit MicaelaBrown.com.
Media Contact: Beverly Winkler, beverly@blushwhimsy.com​
Source: Micaela Brown
Share:
---
Categories: Women's Issues, Entrepreneurship, Celebrities
Tags: Entrepreneurship, Inspire People Media, Society of Leadership Fellows, St. George's House, Startups, Windsor Castle, Women in Business, Women in Leadership
---