MicroHealth Recognized by Washington Business Journal for Diversity in the Workplace
Press Release
•
May 26, 2023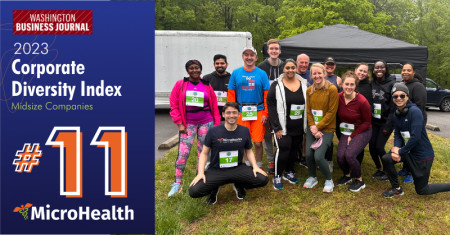 VIENNA, Va., May 26, 2023 (Newswire.com) - MicroHealth LLC, a leading Health Information Technology company, is proud to announce its inclusion in the 2023 Washington Business Journal Corporate Diversity Index List, which recognizes companies in the Washington metropolitan area based on percentage of total employees with various racial, ethnic, socioeconomic, and cultural backgrounds.
MicroHealth ranked #11 among Midsized Companies in the greater Washington, DC, area, with 65% of employees identifying as people of color. This highlights MicroHealth's commitment to fostering a diverse and inclusive workplace.
"MicroHealth is fortunate to deliver projects that have far and wide lasting impacts, not only for service members but for folks across this nation. And it's all possible thanks to our dedicated workforce," adds MicroHealth Chief Executive Officer Frank Tucker.
"At MicroHealth, it doesn't matter where you grew up or if you've worked at a big-name company before. What matters most is your willingness to show up and add value. Whether you're working on improving electronic health records systems, increasing data interoperability, or helping make sure people have access to affordable prescriptions, all that matters is that you continue to show up and deliver for our customers."
For more information
MicroHealth LLC is a service-disabled, veteran-owned, SBA 8(a) small business that specializes in IT-related solutions in the federal health space. Our team of clinical executives, health professionals, technologists, researchers, and informaticists brings decades of experience treating patients, managing services, and developing strategies across federal departments, agencies, and the Uniformed Services.
Our core capabilities include electronic health records, telehealth, health informatics, clinical training and implementation, software development and integration, medical simulations, interoperability, data analytics, IV&V, cloud, agile project management, DevSecOps, and IT support.
Simply put, we put the health back in health IT.
Frequently recognized by institutions for having an engaged and diverse workforce, MicroHealth is a three-time Top Workplace USA winner, a 2023 American Business Award Silver Minority-Owned Business of the Year, and ranks #18 on the 2023 Washington Business Journal's Companies Owned by People of Color List.
For more information about MicroHealth including career opportunities, visit www.microhealthllc.com.
Source: MicroHealth LLC