MicroAge Awarded Sophos 2023 Synchronized Security Partner of the Year for the Americas
Press Release
•
May 31, 2023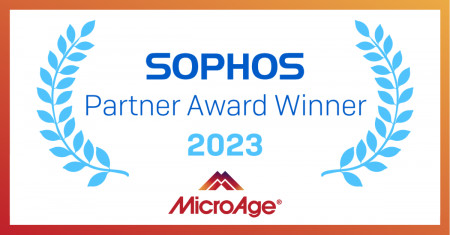 PHOENIX, May 31, 2023 (Newswire.com) - MicroAge®, The Digital Transformation Experts®, announced it has been awarded the Sophos 2023 Synchronized Security Partner of the Year for the Americas. MicroAge is recognized for its outstanding performance and commitment to securing organizations with Sophos' innovative portfolio of cybersecurity solutions and services.
"Cybercriminals are constantly pivoting and refining their techniques. This, plus the complexity of attack methods, requires layers of security that protect organizations at every point along the attack chain. By working with Sophos to ensure our joint customers have the defenses they need, Sophos has recognized MicroAge as the Synchronized Security Partner of the Year," said Kendra Krause, senior vice president of global channels and sales operations. "Sophos is honored to work with all of the winning partners that are dedicated to delivering superior cybersecurity outcomes to defeat cyberattackers."
MicroAge is an award-winning technology solutions and services provider, specializing in IT services and cloud. For nearly five decades, MicroAge has empowered businesses to advance, secure, accelerate, and transform—moving quickly with technology changes to drive business forward.
"We are honored to be named a Sophos Partner of the Year," said MicroAge Senior Vice President of Marketing and Technology, Larry Fulop. "The award is a testament to our commitment to providing best-in-class cybersecurity solutions and services that help ensure the safety and security of our clients and their end users."
About MicroAge
MicroAge combines a powerful mix of technology services, backed by vendor-certified engineers and an acclaimed panel of experts to deliver the competitive edge technology leaders need to lead in a disruptive, digital environment. A Gold-Certified Microsoft partner, MicroAge is recognized annually by Computer Reseller News (CRN) in the Tech Elite 250, Solution Provider 500, and MSP 500 lists of top-performing technology integrators, strategic service providers, and IT consultants. Headquartered in Phoenix, Arizona, MicroAge has a rapidly expanding national salesforce to support growing demand. To learn more, visit MicroAge.com.
About Sophos
Sophos is a worldwide leader and innovator of advanced cybersecurity solutions, including Managed Detection and Response (MDR) and incident response services and a broad portfolio of endpoint, network, email, and cloud security technologies that help organizations defeat cyberattacks. As one of the largest pure-play cybersecurity providers, Sophos defends more than 500,000 organizations and more than 100 million users globally from active adversaries, ransomware, phishing, malware, and more. More information is available at www.sophos.com.
Source: MicroAge