Michaels Achieves Financial Closing on Third Phase of Jordan Downs Redevelopment
Press Release
•
updated: Mar 27, 2020
Latest milestone in the Watts Neighborhood Revitalization will create 92 new housing units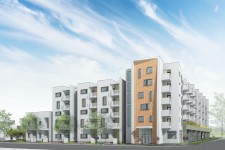 CAMDEN, N.J., March 27, 2020 (Newswire.com) - The Michaels Organization, a national leader in residential real estate, will soon break ground on the third phase of new housing at Jordan Downs, after successfully achieving a financial closing March 23. Located in the Watts neighborhood of Los Angeles, this is the latest milestone in a comprehensive redevelopment of the city's largest public housing community by the Housing Authority of the City of Los Angeles and its private sector partners, Michaels and BRIDGE Housing.
The $58 million Phase S3 development will provide 92 new apartments, affordable to households earning between 30% and 80% of the Area's Median Income (AMI). Previous milestones in the redevelopment effort that began in 2012 include the first two residential developments by BRIDGE and Michaels, the extension of Century Boulevard, and the opening of new neighborhood retail, including a full service grocery store. The master plan also calls for significant new green space throughout the Watts neighborhood.
"The unprecedented collaborative efforts of HACLA, residents, community stakeholders, and our financial partners, along with the strong leadership of political officials at the local, state, and federal level continue to drive exciting milestones in the transformation of Jordan Downs," said Kecia Boulware, Michaels' Vice President of Development. "We are incredibly grateful to be able to keep moving forward, even during this most difficult time for California and our nation."
When the redevelopment is fully complete, Jordan Downs will be transformed into an urban village, with the original 700 WWII-era units of public housing replaced by more than 1,400 new homes for new and existing residents, as well as new commercial and retail spaces, a new community center, and over nine acres of open green space.
The apartments in Phase S3 will be offered in a variety of floor plans, featuring one, two, three and four-bedrooms, and will feature sustainable finishes and energy-efficient appliances. The development will be LEED certified with a target of LEED Gold. In addition, the apartment building will have solar PV designed to offset all the common area and central hot water heating for the development.
Financing for Phase S3 includes equity from Berkadia's purchase of 9 percent Federal Low-Income Housing Tax Credits and permanent loans through Freddie Mac, the State of California's Affordable Housing and Sustainable Communities program, and the Housing Authority of the City of Los Angeles. The project's State of California funding includes discounted transit passes for residents and a job training partnership to help leverage the impact of the project for neighborhood career advancement.
Jordan Downs Phase S3 will incorporate rental subsidies through Project-Based Section 8 contracts and the Rental Assistance Demonstration (RAD) program. The building will reserve 17 apartments to be fully accessible to residents with physical disabilities and hearing or visual impairments.
Development Team members also include Walton Construction, which is serving as the general contractor, FSY Architects serving as design lead and architect of record; Partner Energy as the sustainability lead; and Breen Engineering as lead engineer for civil and off-site improvements. Michaels Management will serve as the property manager, once construction is completed approximately 21 months from now.
About The Michaels Organization: Michaels is a national leader in residential real estate offering full-service capabilities in development, property management, construction, and finance. Serving 145,000 residents in more than 400 communities nationwide, Michaels is committed to crafting housing solutions that jump-start education, civic engagement and neighborhood prosperity and to creating Communities That Lift Lives.
Media Contact: Laura Zaner; 846-988-5983.
Source: The Michaels Organization