Miami Nights Crowned Champions of the NCL Cup Series After Electrifying Weekend of Racing in Atlanta
Press Release
•
updated: Aug 20, 2023
The National Cycling League Celebrates Successful Conclusion of the NCL Cup Series.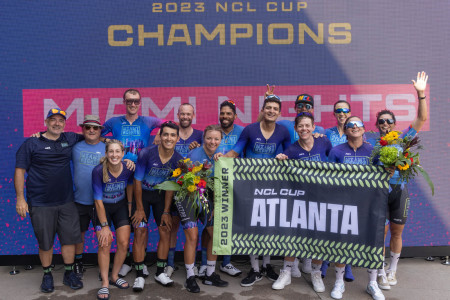 ATLANTA, August 20, 2023 (Newswire.com) - The National Cycling League (NCL) wrapped up its thrilling three-part race series this weekend in Atlanta.
On Saturday, Aug. 19, fans gathered at Bearings Bike Works for the Team Qualifier. The event was an embodiment of community spirit, where families came together to watch competitors push their limits. Food trucks, games, and the action of street sprints created an atmosphere full of excitement.
Then, on Sunday, Aug. 20, the Porsche Experience Center Atlanta Driver Development Track hosted the much-anticipated final of the NCL Cup Series. The ten co-ed teams of professional cyclists competed in the fast-paced criterium-style race circuit. While the Miami Nights and the Denver Disruptors had dominated the NCL Cup Series until then, the Atlanta race saw the resurgence of the Fount Cycling Guild, making for a riveting showdown that kept the crowd on the edge of their seats.
In the end, the Miami Nights emerged as the victorious team of the three-part 2023 NCL Cup Series. Individually, Clever Martinez (Miami Nights) and Alia Shafi (Fount Cycling) showcased their dominance in this format of racing, respectively among men and women athletes.
Reflecting on the weekend's success, Andrea Pagnanelli, NCL CEO, shared, "The essence of the NCL isn't just about racing. It's about pushing the boundaries of what's possible in the sport. This weekend brought the community together to do just that, and we couldn't be prouder of everyone who participated."
The proceeds from the NCL Cup Atlanta will go directly to support the mission of Bearings Bike Works. This full-service bike shop not only serves the cycling needs of local riders but also doubles as an invaluable workforce training opportunity for the youth of Southwest Atlanta.
This event stands as a testament to the NCL's commitment to innovation in the sport. And with this new format in cycling, the organization is excited about the future of the league. They are determined to continue elevating their mission of gender equality, reimagining the U.S. cycling scene to captivate both new and existing fans alike.
For more information about the race and access to exclusive footage and photographs, please contact Claire Angelle at claire@angelleconsulting.com.
Source: National Cycling League