Miaba Introduces New Constant Comfort and Garden Collections to Lavish Your Little Ones With Luxury
Press Release
•
Aug 23, 2016
Exquisite baby blankets, accessories and wonderfully whimsical toys all assemble to present a display of handcrafted gifts with a modern yet timeless touch.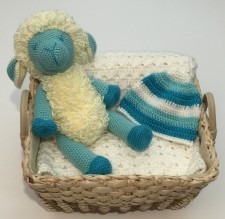 Anchorage, AK, August 23, 2016 (Newswire.com) - Celebrate the little loves in your life with gorgeous heirloom quality gifts worthy of any expectant mother's adoration and which any child will cherish. Miaba, a brand known for lovely knit and crochet blankets which please babies, toddlers, and parents alike, simultaneously releases the Constant Comfort and Garden Collections-- two lines developed distinctly for the quality conscious person looking for that exceptional handcrafted gift. In creating these lines, owner and designer, Amena Hunt, captures the simplicity and elegance of classic crochet as well as the beauty and serenity of an opulent garden. The Constant Comfort and Garden Collections will be available August 27, 2016 online at miaba.co.
The Constant Comfort Collection features blankets and beanies available in a variety of pastels as well as vibrant nursery colors to compliment any child's room while keeping him or her snug and entertained with an optional lamb stuffed toy. The Garden Collection highlights a rich array of color reminiscent of time spent in a cozy garden bursting with beauty, life, and tranquility. Not only will you discover marvelous garden inspired blankets, but here you may also find a fanciful stuffed rabbit, butterfly, snail or frog to treasure. Whether swaddling the newest family addition home from the hospital, being treasured by a new big brother or sister, or being unveiled as the hit of your baby shower, these cuddly blankets and delightful toys are exactly right for the occasion or simply a perfect "just because" way to show that special little someone love. Any piece may be bought individually or as part of a splendid set to compliment those memory making moments.
"Besides the designs being colorful, beautifully executed with skill, dedication and love, Miaba items are warmly comforting and cuddly soft. Plus many of the blankets also have companion toys available that bring lots of joy and fun."

Deborah D., Repeat customer
About Miaba:
Miaba was founded in 2015 in response to a continued demand for Amena Hunt's work as a knitter and crocheter. Although she possesses more than 30 years of experience in the fiber arts world, not until recently did she discover her desire to share her gifts beyond the fortunate recipients amongst her family and friends. "I will never forget one friend who expressed such gratitude when she said 'Amena, every new baby deserves a handmade blanket, so please don't ever stop making them!" She never has stopped making blankets, but not until Amena became a mother herself did the idea manifest to turn a lifelong love of stitching into a business. "The first time I wrapped my daughter in the beloved pink and white chevron blanket my aunt lovingly made for me when I was born, I knew I wanted to help others find that same simple joy in passing on a cherished heirloom."
Contact Information:
You may contact Amena via email at amena@miaba.co or online at miaba.co. For additional information on local appearances, collection previews, the latest news and other exclusives, follow Miaba on Facebook at https://www.facebook.com/Miaba.online, on Instagram at https://www.instagram.com/miaba.co, on Twitter at https://twitter.com/miaba_co, and on Pinterest at https://www.pinterest.com/miabaco/.
Source: Miaba
Related Media
Additional Links