mg Magazine Releases the 2018 List of 30 Powerful Cannabis Litigators Every Business Operator Should Know
Press Release
-
updated: Nov 8, 2018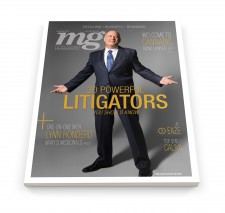 LOS ANGELES, November 8, 2018 (Newswire.com) - ​​mg Magazine, the leading national cannabis business publication, recognizes 30 leading cannabis litigators in their November 2018 issue.
Good legal representation is imperative in any industry, but especially so in cannabis. While 30 U.S. states and the District of Columbia have legalized the substance, laws and regulations governing use differ by state and are in constant flux.
In addition, marijuana remains prohibited by the federal government. Effective litigation in such circumstances is complex and time-consuming, making mg's litigator lowdown an essential resource for all businesses operating in the cannabis space.
The mg Power List
Heather L. Burke, Greenspoon Marder LLP, California
Michael Chernis, Chernis Law Group PC, California
Michael Cindrich, Law Offices of Michael E. Cindrich APC, California
Ariel Clark, Clark Neubert LLP, California
Omar Figueroa, Law Offices of Omar Figueroa, California
Daniel Garfield, McAllister Garfield PC, Colorado
Rachel K. Gillette, Greenspoon Marder LLP, Colorado
Matthew Ginder, Greenspoon Marder LLP, Florida
Seth Goldberg, Duane Morris LLP, Pennsylvania
Michael S. Hiller, Hiller PC, New York
Robert Hoban, Hoban Law Group, Colorado
Jason Horst, Horst Legal Counsel, California
Orion Inskip, Gleam Law PLLC, Washington
Rod Kight, Kight on Cannabis, North Carolina
Raza Lawrence, Margolin & Lawrence, California
Meital Manzuri, Manzuri Law, California
Allison Margolin, Margolin & Lawrence, California
Bruce Margolin, Law Offices of Bruce M. Margolin, California
Sean McAllister, McAllister Garfield PC, Colorado
Nicole Howell Neubert, Clark Neubert LLP, California
Aaron A. Pelley, Cultiva Law PLLC, Washington
Robert Raich, Robert A. Raich PC, California
Joe Rogoway, Rogoway Law Group, California
Lauren Rudick, Hiller PC, New York
Andrew Sacks, Sacks Weston Diamond LLC, Pennsylvania
Eric Shevin, Shevin Law Group, California
Ian A. Stewart, Wilson Elser, California
Heidi Urness, Cultiva Law PLLC, Washington
Henry G. Wykowski, Wykowski Law, California
Katy M. Young, Ad Astra Law Group LLP, California
The final selection of 30 litigators resulted from an exhaustive and rigorous process involving extensive research and a confidential peer review of more than 200 attorneys across the U.S. None of the listings were bought or related to advertising in any way, making mg Magazine's 30 Powerful Litigators list an honor in the truest sense.
"Our publications are dedicated to providing cannabis executives with valuable information that enables success, and this feature clearly represents this commitment," said mg Magazine Contributing Editor Erica Heathman. "We owe the National Cannabis Bar Association our gratitude for its assistance with this project and its ongoing support."
Read the story online here: https://mgretailer.com/business/legal-politics/30-powerful-cannabis-attorneys-you-should-know/
mg's November issue can be found at select Barnes & Noble retailers, or by calling (310) 421-1860.
About mg Magazine
mg is the leading national trade media organization for the legal cannabis industry. Referred to as "weed's hybrid of Forbes and Inc.," mg covers the brands and businesses driving unprecedented growth in the retail market sector. Visit www.mgRetailer.com. mg is a division of CANN Media Group, which also publishes the trade journal CBD Today and a variety of supplemental issues focused on all major verticals within the cannabis industry.
#   #   #   #
Media Contact: 323.788.0741 and Handsonpr@aol.com
Source: mg Magazine
---
Categories: Business News
Tags: Cannabis, Cannabis Litigators, CBD, Lawyers, Legalized, Litigators, Marijuana, mg Magazine, National Cannabis Bar Association
---