MFE Rentals Named by Sarcos Robotics as an Official Rental and Resale Partner for the Guardian® S Remote Visual Inspection Robot
Press Release
•
updated: Jul 14, 2020
The Guardian® S Robot Is a Low-Profile, All-Terrain Multi-Sensor Inspection Tool Operated Through Remote Communication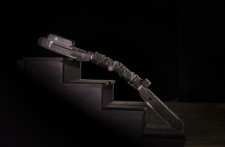 HOUSTON, July 14, 2020 (Newswire.com) - ​​​​Sarcos Robotics and MFE Rentals today announced a partnership giving MFE Rentals customers premier access to the innovative, award-winning Guardian® S robotic crawler system, a compact, multi-purpose remote visual inspection tool designed to traverse challenging terrain while maintaining real-time, two-way video, voice and data communication.
The Guardian® S robot, created and built in the United States, is designed to navigate unstructured and unpredictable environments that previously no other crawler had the capabilities to access. Its compact, low-profile design, slim form, and waterproof structure are optimal for inspecting narrow piping and traversing vertical ferromagnetic surfaces, stairs, tanks, and culverts. This technology will provide operators with a detailed view of the terrain, all while maintaining a safe distance.
As a Sarcos Robotics Official Rental and Resale Partner, MFE Rentals says the inclusion of the Guardian® S robot in their equipment arsenal will save MFE customers time and money.
"The Guardian® S robot has six cameras and magnetic tracks so it can crawl up metal platforms and has unique features for traveling over obstacles," said Susan Nulph, MFE Rentals Sales Manager. "Its potential to save time and money while avoiding putting humans in areas they couldn't or shouldn't safely go is exceptional."
Ideally suited for commercial, industrial, public safety, and defense applications, the Guardian® S robot delivers extended run times and long-range wireless operations, making inspections and remote surveillance safer and more effective than ever before.
"We are pleased to be working with MFE Rentals as an Official Rental and Resale Partner of our Guardian S® robot," said Jim Ryder, Chief Revenue Officer of Sarcos Robotics. "MFE Rentals has extensive knowledge and experience offering tools and services for industrial inspections, and we look forward to utilizing their expertise and relationships to deploy the Guardian S® robot across a variety of industries for remote visual inspections."
The Guardian® S robot is now available to rent through MFE Rentals. For more information, go to https://www.mferentals.com/product/guardians/ or www.sarcos.com/guardian-s.
MFE Rentals
MFE Rentals is a one-stop inspection resource for equipment rentals, sales, calibrations, repairs, and training. MFE offers a vast catalog of inspection equipment for nondestructive testing, remote visual inspection, industrial drone inspection, and more. The MFE Group was founded in 1994 with the opening of MFE Rentals parent company MFE Enterprises, a family-owned and operated inspection equipment manufacturing company. In 2009, MFE Enterprises opened MFE Rentals in an effort to provide their customers access to a full catalog of inspection equipment through rentals or sales. The MFE Group now has over 14 locations across the United States, Canada, Mexico, and the Middle East. For more information, please visit www.mferentals.com.
Sarcos Robotics
Sarcos Robotics is the world's leader in industrial robotic systems that augment human performance by combining human intelligence, instinct, and judgment with the strength, endurance, and precision of machines to enhance employee safety and productivity. Leveraging more than 25 years of research and development, Sarcos' mobile robotic systems, including the Guardian® S, Guardian® GT, and Guardian® XO®, are revolutionizing the future of work wherever physically demanding work is done. Formerly the robotics division of a major defense contractor, Sarcos is based in Salt Lake City, Utah, powered by an innovative team of entrepreneurs and engineers and backed by Caterpillar, GE Ventures, Microsoft, and Schlumberger. For more information, please visit www.sarcos.com.
##
Media Contact:
Sharon Reynolds
​Email: sreynolds@mferentals.com
Source: MFE Rentals
Tags
Additional Links