Mexico Update: Young Girl is Rescued From Her Collapsed School
Press Release
•
updated: Sep 22, 2017
The Los Topos search and rescue team have rescued 26 from the Mexico earthquake. "We need more time to finish this work," they say.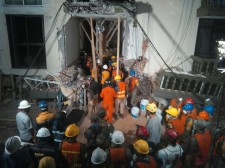 Mexico City, Mexico, September 21, 2017 (Newswire.com) - ​In the early hours of the morning September 21, after working 36 hours nonstop to save her life, Los Topos rescued the tiny Paulina Gomez from the Enrique Rebsamen School where she was buried alive on Tuesday when the 7.1 magnitude earthquake struck Mexico City.
Los Topos worked inch by inch, removing one stone at a time, to free Paulina from the school that pancaked from the impact of the quake. The very act of digging her out was liable to cause it to collapse further.
On top, rescue workers waited for hours to help. From time to time throughout the day and night and into the following day, someone would raise his fist, calling for silence. This was the recognized signal for all talking to cease, making it possible for the Topos to listen for movement inside the collapsed building to locate survivors.
Then, at last, rescuers received the message to start pulling on the cable to bring the little girl up. To the cadence "Dos, tres (two, three).… dos, tres..."— the top of a child-sized white hard hat appeared. "Dos, tres.…" and the child was free. A roar erupted as she emerged from the bowels of the building, her little hands holding onto the cable used to haul her up and out.
Paulina is one of the 26 victims Los Topos has pulled alive from the earthquake, one of three at the Enrique Rebsamen School, where they also rescued her schoolmates, Isaac Ayala and Lucia Samora.
Ironically, it was exactly 32 years earlier, on Sept. 19, 1985, that an 8.0 magnitude earthquake struck Mexico City killing some 6,000. That was the day Los Topos Azteca was born. Founder Héctor Méndez raced to the center of the disaster to search for his brother. It turned out his brother was fine, but in searching for him, Méndez dug four survivors out of the rubble that day. Since then, he and his Topos, manned by men and women who work strictly as volunteers, have served in disasters the world over.
Los Topos partners with the Scientology Volunteer Ministers who provide them logistical support at disaster sites. When the earthquake struck on Tuesday, Los Topos designated the Church of Scientology Mexico as their headquarters for this relief operation.
To see a video of the rescue of Paulina Gomez, visit the Scientology newsroom.
For more information, contact the Church of Scientology Public Affairs Office at publicaffairs@churchofscientology.net or call (323) 960-3500.
Source: ScientologyNews.org
Related Media