Mexico Bariatrics Is a Bariatric Surgery Center of Excellence for Affordable Weight Loss Surgery in Mexico
At Mexico Bariatrics, Dr. Alejandro Lopez and his multi-disciplinary team have performed over 5,000 weight loss surgeries which have exceeded the average of successful weight loss management. This pursuit of excellence is driven by a high calibre team of healthcare professionals. The whole multi-disciplinary weight loss team carries years of experience in obesity and weight management, to help you achieve the best level of weight loss and gain the largest health benefits.
Press Release
-
updated: Dec 28, 2015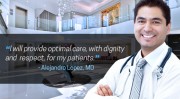 Tijuana, Mexico, December 27, 2015 (Newswire.com) - Mexico Bariatrics, a Bariatric Surgery Center of Excellence for Weight Loss Surgery in Mexico, announced today that it has now performed more than 5,000 weight loss surgeries. The center, founded by Dr. Alejandro Lopez, one of the world's top bariatric surgeons, specializes in minimally-invasive surgical weight loss procedures. These include LAP BAND, Gastric Bypass, Gastric Sleeve, Duodenal Switch and the revision of previous, failed weight loss surgery.
"We are very proud to reach this amazing milestone of success," said Dr. Lopez. "It's a testament to the quality of the team we've assembled here at Mexico Bariatrics. Our multi-disciplinary team is committed to making the treatment experience here as positive as possible for our patients."
Mexico Bariatrics is a modern surgical facility located about 10 miles south of the border between the United States in Mexico. Many of its patients are from the US and Canada. In addition to surgery, the center offers a complete approach to weight loss, including diet and lifestyle advisory. "We strive to maximize effectiveness and safety of our surgical weight loss procedures," Dr. Lopez added. "I like to believe that my patients are among my family members and I would like my family members to be treated with respect, dignity and love."
Dr. Lopez and his team routinely produce outcomes that exceed established predictions of weight loss surgery.  He is known for being friendly and honest about a patient's suitability for surgery, making safety and wellbeing his first priority.  The Mexico Bariatrics team pays attention to pre and postoperative care in order to optimize the outcome of the patient's operation and provide a smooth recovery after surgery.
Dr. Alejandro Lopez, is a board certified general surgeon with over 10 years of experience in bariatric surgery. He was educated at the Medical School of the University of Guadalajara and trained in surgery at Regional General Hospital 46, serving a Residency at the Medical Research Unit in Epidemiology IMSS, Jalisco with a Specialization in General Surgery. He did his Fellowship at Western National Medical Center and a further residency at Chicago's Cook County Hospital in Esophagus, Laparoscopic and Robotic Surgery.
For more information, visit http://www.mexico-bariatrics.com.
Share:
---
Categories: Healthcare, Hospitals and Clinics, Surgery
Tags: Bariatric Surgery in Mexico, Best Bariatric Surgery In Mexico, Dr. Alejandro Lopez, Mexico Bariatric Center, Mexico Bariatric Surgeons, Mexico Bariatric Surgery, Mexico Bariatrics, Weight Loss Surgery in Mexico
---