Meteorologist and Author of Extreme Weather Bonnie Schneider Gives a Guide for Survival on Tips on TV Blog
Press Release
•
updated: Oct 1, 2017
What families can do to be prepared for severe weather events that are becoming more frequent.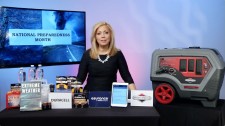 ATLANTA, October 1, 2017 (Newswire.com) - ​​​It is seen on the news almost every day; record floods, earthquakes, crippling blizzards, and tornadoes hitting parts of the nation. September is National Preparedness Month, sponsored by the Federal Emergency Preparedness Agency, and it comes at a time when the incidence of extreme weather events seems to be growing. As a network television meteorologist, Bonnie Schneider has been predicting storms and following weather patterns for many years. Her knowledge of the weather and her concerns for safety inspired her to write the informative and fascinating book, Extreme Weather: A Guide to Surviving Flash Floods, Hurricanes, Heat Waves, Snowstorms, Tsunamis and Other National Disasters. Bonnie shared expert advice just in time for National Preparedness Month.
TIPS FOR PREPARING FOR A STORM
During severe weather, power outages can be prevalent so the best time to prepare for a power outage is well in advance. When preparing for any size storm, it is recommended to have a generator, which can be noisy. There is an innovative, quieter generator from Briggs & Stratton, the Q6500 QuietPower Series Inverter Generator. It is 60 percent quieter than most generators, so it will not disrupt a night's sleep while the unit is running. The Q6500 QuietPower Series Inverter Generator can provide emergency backup power to the most important home appliances, such as the refrigerator, sump pump, television, and microwave and can also be used for cell phone chargers and lights. Also, compared to other generators, it is very affordable at only $1499. While it is not possible to control natural weather phenomena like rain, lightning, snow, ice, wind, or even dust, it is possible to keep the power on. For more information, visit www.briggsandstratton.com.
HOW TO PROTECT PROPERTY IN ADVANCE OF A MAJOR STORM
A catastrophe can hit at any time, that is why it is so important to be prepared. It is important to have good homeowners' and car insurance. A great option is Esurance. It is quality insurance at affordable prices. They settle claims fast and efficiently with their easy to use online tools and smart technology. For example, during recent hurricanes, Esurance used smart technology like predictive analytics and aerial images to see the damage to cars, allowing them to waive inspections and settle claims quickly. Esurance makes recovering from a major storm easy and fast. For more information, visit www.esurance.com.
WAYS TO STAY SAFE DURING A STORM
As many people know, storms can wreak havoc, thus causing power outages. To stay safe in a storm, it is recommended to have a preparedness kit. It should include emergency telephone numbers, water, a reliable flashlight, and of course, it is important to always have batteries in the kit. Duracell batteries are the most trusted brand of batteries. Batteries are essential during a storm to power flash lights and battery-operated radios. Duracell batteries can last up to 10 years when stored properly. Also, Duracell is helping those affected by Hurricanes Harvey and Irma, with the Duracell's Power Forward fleet. The fleet has been on the ground distributing free batteries, mobile charging, and free Wi-Fi. Find live location updates on their Twitter page, @Duracell. For more information, visit www.duracell.com.
Contact: tipsontv@gmail.com
Source: Tips on TV
Related Media