Metabolism Boosting Supplement Just Released by Top Secret Nutrition
Press Release
•
updated: Feb 6, 2017
A Giant Step Forward in Weight-Loss Supplementation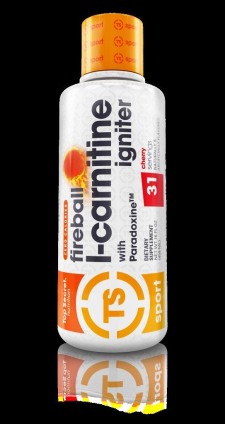 Miramar, Florida, February 6, 2017 (Newswire.com) - ​Top Secret Nutrition has been a leader in the development of weight loss supplements for years and now has just released a dieting game changer called Fireball. Why is this a game changer? Because just by taking the supplement, you will burn more calories.1
Too good to be true? Nope.
"I have designed hundreds of weight management supplements and I know that Fireball is a game changer in the diet industry."

Tom Richardson, President
What's the secret? It's called Brown Fat. Brown fat is the good fat, it actually creates heat by consuming the bad white fat, through a process called thermogenesis. The key is stimulating brown fat, and that is exactly what Fireball does. With one serving, you will feel the heat and you will know your body is burning fat. Fireball is a stimulant free scientifically designed weight management supplement to kick start, fire up and turbocharge the dieting process. Many people like taking Fireball before going to the gym because it makes them sweat more and they know they are burning calories. The testimonials are flying in from people losing weight faster and easier than they ever have.
It gets better:
Not only does Fireball stimulate brown fat to burn white fat and create heat (thermogenesis), it also helps convert white fat into beige fat, a hybrid fat cell that now burns calories instead of storing calories. In addition to all of this, the main ingredient in Fireball has been studied and confirmed to target belly fat.1,2,3 This means a net boost in resting metabolism resulting in more calories burned on a daily basis.
Combine Fireball with a sensible meal plan and exercise and you have an incredible formula for weight loss success.
About Top Secret Nutrition
Located in Miramar, Florida, Top Secret Nutrition was founded in 2011 with the goal of creating a true lifestyle supplements brand in a category overcrowded with workout-centric brands. Every TS product is manufactured in US laboratories with Good Manufacturing Practices certification.
Fireball Liquid L-Carnitine can be purchased at many high quality brick and mortar and e-commerce stores served by our distributors, Europa Sports and Select Nutrition. It can also be purchased on Amazon.com, Bodybuilding.com and MuscleandStrength.com. More information is available on the company website www.topsecretnutrition.com. TSN can also be followed through:
https://www.facebook.com/topsecretnutrition/
https://twitter.com/TopSecretNutri
https://www.instagram.com/topsecretnutrition/
https://www.linkedin.com/company-beta/1625368/
For additional information, please contact: Tom Richardson at 9544969600 or via email at tom@topsecretnutrition.com
References:
1. Daily ingestion of grains of paradise (Aframomum melegueta) extract increases whole-body energy expenditure and decreases visceral fat in humans. J Nutr Sci Vitaminol (Tokyo). 2014;60(1):22-7.
2. Brown and Beige Fat: Molecular Parts of a Thermogenic Machine Diabetes 2015 Jul; 64(7): 2346-2351.
3. Brown Fat and Browning for the Treatment of Obesity and Related Metabolic Disorders
Diabetes Metab J. 2016 Feb; 40(1): 12–21.
Source: Top Secret Nutrition
Additional Links