Meriden Farmers Market Offers Salsa Dancing With All of Us
Press Release
•
Aug 9, 2023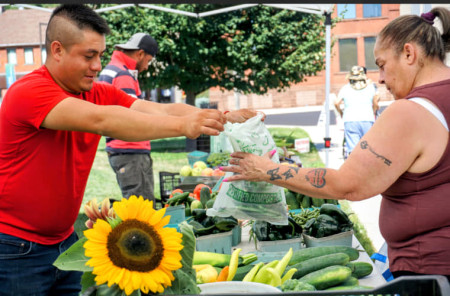 MERIDEN, Conn., August 9, 2023 (Newswire.com) - Combine salsa dancing, medicine, and a farmers market, and you're bound to get something interesting. The Meriden Farmers Market has teamed up with the All of Us Research Program at the Community Health Center to bring awareness to the initiative and also foster relationships with the local community.
The Meriden Farmers Market has been a staple in the area for over a decade. Running from July through October, it offers a space for farmers, local crafters and artisans, and boutique food vendors to sell their wares. This year, it's stepped up its efforts to attract residents from not just Meriden, but also the surrounding areas. The market boasts live music every Saturday and other specialty events throughout the season.
Now, the market has partnered with the Community Health Center to offer free salsa dance lessons at the market on August 12 and 26 to support a great cause.
"I want to promote the resources within the local community that can help them lead a healthier lifestyle, and learn about the All of Us Research Program and how being a part of it can help the healthcare system and themselves," explains Celimar Rivera Santos, Bilingual Research Coordinator II for the All of Us Research Program.
The All of Us Research Program is a national program funded by the National Institutes of Health and aims to create a rich database filled with information about a person's DNA, lifestyle and environment. Their goal is to enroll more than 1 million individuals that reflect the population of the U.S. This database will allow researchers to study how these three factors then impact the health of an individual so they can create more effective and tailored treatments.
How does salsa factor into this? The two organizations hope that the event will not only attract more people to the market, but will also bring awareness to their mission.
"We decided to host the event at the Meriden Farmers Market because we believe it is a great opportunity to raise awareness of the All of Us research program within the community of Meriden in a fun and educational way," explains Rivera. "The farmers market brings people from different groups together and that is exactly what we want to do with this event."
It's not all about the mission, though. Rivera still wants to encourage people to come by, get some delicious food, and have fun.
"I encourage everyone no matter the age, rhythm, groove, shyness to come out and enjoy a little bit of salsa, dance, community and joy," says Rivera.
The market is open from 8:30 a.m. to 12 p.m. every Saturday from now through Oct. 14 at the Meriden Green along Mill Street. Free salsa dance lessons will begin at 9 a.m. on Aug. 12 and 26. Follow the Meriden Farmers Market on Facebook and Instagram for the latest updates.
Source: Meriden Farmers Market
Tags