Merging Traffic Partners With I-AM Capital Technologies to Reach India
Press Release
•
updated: Feb 25, 2019
A new agreement between Merging Traffic and I-AM Capital Technologies connects India with the Merging Traffic ecosystem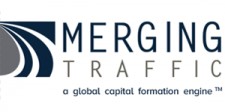 ORLANDO, Fla., February 25, 2019 (Newswire.com) - Merging Traffic Inc. is pleased to announce a new collaboration effort with I-AM Capital Technologies LLC. As part of this new effort, I-AM Capital will connect South Asian technology startups with Merging Traffic's ecosystem of technology, research and capital markets while growing Merging Traffic's global capital formation engine.
In addition to the collaborative efforts, I-AM Capital Technologies becomes a Merging Traffic portfolio company. I-AM Capital Technologies operates in the areas of blockchain with expertise in finance, mergers and acquisitions. Merging Traffic believes this will bolster a portfolio that includes other blockchain investments, such as Mercury Cash and Global Blockchain Ventures, and create a funnel for additional expansion.
Max W. Hooper, CEO/managing director of Merging Traffic Inc., said, "We are excited to connect the market expertise of I-AM Capital Technologies with burgeoning blockchain and other emerging technologies within Florida."
The managing members of I-AM Capital Technologies include F. Jacob Cherian, Suhel Kanuga and Dilip Chauhan, each of whom is a well-established and successful leader in India.
F. Jacob Cherian has over 20 years of experience that includes international financial services consulting, mergers & acquisitions, investments and cross-border transactions. As co-founder and chief executive officer of two publicly listed funds on NASDAQ, he has raised over $110 million to invest in emerging markets in high-growth sectors such as in financial services; disruptive technology; digital and online platforms; and virtual reality and artificial intelligence.
Suhel Kanuga has over 20 years of investment and financial services experience on three continents and has co-founded and listed two companies on NASDAQ, raising over $100 million in growth capital. He has deep experience around investments in Asia/India, particularly in the technology, virtual reality, gaming, sports entertainment and online financial services sectors.
Dilip Chauhan is a tireless community activist for South Asian causes and is well-respected at the highest political levels at both the state and national levels in the United States as more than 40 elected officials and other government agencies have sought out his advice on South Asian affairs. In addition, Mr. Chauhan is well-recognized and has extensive relationships at the highest levels of India and major Indian business enterprises who seek out his advice on cross-border transactions.
"Our company is delighted to link blockchain and other advanced technology ventures to Merging Traffic's ecosystem which will provide powerful blockchain and business expertise," said F. Jacob Cherian, managing member of I-AM Capital Technologies LLC.
About Merging Traffic Inc.
Merging Traffic is a private equity firm that is a Global Capital Formation Engine.™ The company takes the best of multiple business models to create a low-cost, fast-moving and agile combination to operate a virtual private equity firm. Merging Traffic's business model combines the disciplines of management consulting, private equity and corporate finance while working in public/private global ecosystems. www.mergingtraffic.com
About I-AM Capital Technologies LLC
I-AM Capital Technologies operates in global capital markets, such as India, in the domains of emerging technologies and high-technology clusters including blockchain, augmented reality, virtual reality, gaming and artificial intelligence.
News Contact: A.J. Ripin
Company: Merging Traffic Inc.
Email: aj@mergingtraffic.com
Phone: +1 (561) 346-1096
This is not an offer to buy or sell securities.
Source: Merging Traffic Inc.
Tags
Additional Links