Mental Health Watchdog Exposes Psychiatric 'Treatment' of Children
Press Release
•
updated: Apr 2, 2018
Citizens Commission on Human Rights (CCHR) Japan brings its traveling exhibit to Osaka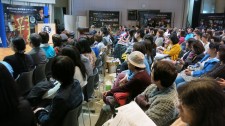 OSAKA, Japan, April 2, 2018 (Newswire.com) - CCHR Japan brought the Psychiatry: An Industry of Death exhibit to the Osaka Dawn Center March 22 to reach parents and educators and expose the promotion of administering highly addictive drugs to Japanese school children.
An entire panel of the exhibit includes interviews with experts who describe the labeling of children with "disorders" as nothing more than junk science because psychiatrists, they said, have never even been able to arrive at a clear definition of ADHD. Despite that, based on their labels, children are placed on dangerous psychotropic drugs.
I was shocked to learn the harmful effect of these drugs. I want to help get this information into the hands of mothers.

Visitor to Psychiatry: An Industry of Death exhibit
In Japan, amphetamine is a banned substance under the Stimulants Control Act, yet one Japanese pharmaceutical company filed for approval last year to use Lisdexamfetamine on children, a substance with many of the same basic properties. CCHR marched to the Osaka prefectural government building in protest and to gain the government's support in blocking this approval.
In evidence of the addictive nature of these drugs, in 2015 the U.S. Substance Abuse and Mental Health Services Administration (SAMHSA) found that:
Large numbers of American college students were abusing prescription stimulants (as many as 20 percent in 2011).
College students diagnosed with ADHD were giving away or selling their medication at high rates (approximately a third of students surveyed admitted doing so at least once).
One visitor to the exhibit, a junior high school teacher, said, "I had doubts about psychiatric diagnosis and treatment of children. I came here to get information with which I could protect them." She asked the volunteers to organize a lecture for the teachers at her school.
"I was shocked to learn the harmful effect of these drugs," said another visitor to the exhibit. "I want to help get this information into the hands of mothers."
A nursing assistant who had been administered psychiatric drugs for 25 years shared her story with the CCHR volunteers. Unable to cope while on the substances she was prescribed, it took her five years to withdraw from them. She has finally recovered from her "treatment" and is back at work.
Another shared the story of a friend who was institutionalized in a psychiatric facility. "A year after she was hospitalized, she died at age 53," she said. "Today I finally understand the reason she died."
Citizens Commission on Human Rights (CCHR) is a nonprofit charitable mental health watchdog co-founded in 1969 by the Church of Scientology and professor of psychiatry Dr. Thomas Szasz. It is dedicated to eradicating psychiatric abuse and ensuring patient protection.
With headquarters in Los Angeles, California, CCHR International guides a global human rights advocacy network of some 180 chapters across 34 nations. CCHR Commissioners include physicians, psychiatrists, psychologists, lawyers, legislators, government officials, educators and civil rights representatives.
Source: ScientologyNews.org
Related Media