Mental Health News Radio Network Announces Coverage of Major Mental Health Conference in New York City to Promote Public Knowledge About LGBTQ People of Color Mental Health
Press Release
•
updated: Oct 4, 2017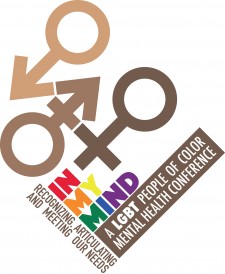 NEW YORK CITY, New York, October 4, 2017 (Newswire.com) - Mental Health News Radio Network is proud to announce their coverage of The In My Mind: LGBTQ People of Color Mental Health Conference created by DBGM: Depressed Black Gay Men which is taking place in New York City, Oct. 5-6th. Mental Health News Radio Network, commonly known as MHNR network, based out of Asheville, North Carolina, is a network of podcasts focused on mental health and how it affects all aspects of individuals' lives: Emotional, Physical, Financial, Spiritual, Entertainment, Sports, Politics, Technological, and more. By covering such a comprehensive conference discussing the many different issues that gay Black men face, MHNR endeavors to further educate the public about taboo conversations. The In My Mind conference hopes to make these topics mainstream, remove stigma and shame, and encourage embracing healing methods and therapies.
Leading the planning for the conference is DBGM, the organization that Antoine Craigwell founded. DBGM works to raise awareness of depression affecting black gay men, to prevent their suicide, and other important topics affecting this population including contracting HIV. The conference is part of DBGM's efforts in the community to remove the stigma and shame surrounding mental health in people of color communities, especially, those who are LGBTQI+, who often face racism and homophobia daily.
In collaboration with other non-profit organizations, the first-ever LGBT Peoples of Color Mental Health Summit was held at Rutgers University, Newark Campus. In October 2015, the first-ever LGBT Peoples of Color Mental Health Conference was held at the former Mt. Sinai Beth Israel, now Mt. Sinai, in Union Square, NYC.
This year's Conference focuses on mental health care for the LGBTQ people of color community, with its theme, "Navigating Mental Health Care: Concerns, Developments and Promises". Reflected in the conference program, along with plenary speakers, are 30 workshops, panel discussions, and standalone presentations by presenters traveling from across the country and internationally. Many in the LGBTQ community feel the current U.S. government and Administration rhetoric and actions since 2016 have caused fear, confusion, and uncertainty for those receiving mental health care. For those who were beginning to come around to accepting that they need mental health care, current policies are making this more difficult.
Along with DBGM, Antoine is in the process of completing a book in which Black gay men share stories of their struggles with depression. In many Black families and in the societies gay men of color exist, silence is imposed by culture. Homophobia, stigma, and discrimination are causing many Black gay men to live hidden, secretive, and unfulfilled lives. The work DBGM is engaged in is to encourage other Black gay men who feel imprisoned and are struggling with their sexual identity, and acceptance in a world that rejects them. "You Are Not Alone" is the title of a documentary DBGM produced in which Black gay men break their silence and speak out about the many different factors that contributed to their mental health destabilization, how they coped and survived.
DBGM also offers two groups in NYC: "Sons" for gay men of color who have not been accepted by their mothers, and "HER" for mothers of color whose sons died from HIV/AIDS or suicide. These groups meet every week for a six-week cycle and are facilitated by qualified and experienced mental health professionals; confidentiality is assured. Additionally, the organization provides workshops on cultural competency, HIV, and mental health affecting black gay men.
MHNR network is made up of authors, counselors, technologists, and advocates with one common thread: Mental Health. These professionals come together to spread awareness of how mental health affects physical, mental, sexual, spiritual, technological, and financial areas of individual's lives. Each MHNR network host has a unique voice in the field of mental health. MHNR Network is proud to share their voices with our listeners.
Source: Mental Health News Radio Network
Related Media