MEND™ Poised to Become the Leading Nutritional Healing & Recovery Brand for Sports, Granted NSF Certification
Press Release
•
Sep 26, 2016
Gold standard certification positions company to meet growing global demand from professional and collegiate sports teams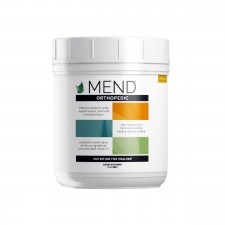 New York, NY, September 26, 2016 (Newswire.com) - ​​Nutrition For Healing® LLC announces the NSF Sport certification of MEND™ Orthopedic, a specialized medical dietary supplement to support tissue repair and recovery. This functional supplement is uniquely designed to support tissue healing from the trauma caused by the repetitive stress of exercise and sports. Head of strength and conditioning for the Philadelphia Eagles and sports nutrition expert, Josh Hingst, immediately recognized the need for the unique formulation: "in professional football, the physical exertion and stress on the body is considerable. I'm a big fan of MEND for tissue healing & recovery – it is one of the best formulated products on the market."
NSF Sport certification is the highest standard provided by NSF, which is an independent testing and certifying body for dietary supplements relied on by professional and collegiate sports. This gold standard certification ensures that athletes are using a high quality, pure product, free of any banned substances. "With a growing interest from professional and collegiate sports globally, we wanted to obtain this certification to assure our teams and athletes of the safety of MEND", says Heidi Skolnik, a recognized authority in nutrition and consultant to many professional sports teams. "This sought after certification is essential to the teams we work with. This further affirms our commitment to using only the highest quality all-natural ingredients that are scientifically supported."
In professional football, the physical exertion and stress on the body is considerable. I'm a big fan of MEND for tissue healing & recovery - it is one of the best formulated products on the market.

Josh Hingst, Head of Strength & Conditioning Philadelphia Eagles
Professional and college sports teams are increasingly utilizing nutrition not only to fuel performance but now also to prevent injury and support healing from injury. "The field has come a long way and we are arriving at a tipping point where it is becoming normal practice for athletes" states Dr. Robert Marx, a renowned orthopedic surgeon who sits on Nutrition For Healing's science advisory board. "There is increasing evidence that tissue repair can be enhanced through nutritional support – both the quality of healing and the time for healing."
The repetitive stress of high performance sports causes overuse trauma. Traumatized or injured tissue goes through 3 healing phases: the inflammatory stage, the repair stage and the remodeling stage. During these phases, the body goes into a higher metabolic state and requires additional nutrients to support tissue repair and recovery. Poor nutrition can compromise the quality of healing and/or delay healing. Jordan Mazur, Director of Sports Nutrition for the University of California Berkeley Golden Bears was an early adopter of MEND, he states: "the level of intensity and training in professional and collegiate sports places considerable stress on bones, muscles and joints of athletes. MEND is an excellent supplement for athletes to support the healing of traumatized tissue."
MEND Orthopedic is uniquely formulated for the repair and recovery of damaged tissue. "Our goals in creating the MEND line of supplements, are to provide the highest quality ingredients we know athletes need, without added risk. We know athletes need adequate protein and essential amino acids to repair muscle damage and to decrease inflammation, and we aim to help them accomplish just that" says Registered Sports Dietitian Lauren Antonucci, triathlete and nationally recognized nutrition expert. "Athletes often use traditional sports recovery products which supply needed carbohydrates and electrolytes, but fail to add ingredients that aid tissue repair, and often neglect to ensure products are free of questionable ingredients or potential harmful substances. The essential amino acids and accountability are often the missing pieces."
Professional teams across the globe are using MEND Orthopedic – from rugby in Australia, to soccer in Europe, to NHL in Canada and NBA and NFL in the United States. Orthopedic surgeons across the United States are also utilizing MEND with their patients to support healing and recovery from orthopedic surgery.
About Nutrition For Healing LLC
Nutrition for Healing® LLC was founded by leading medical and nutrition experts who share the philosophy that with better nutrition comes better healing. We believe that in order for the body to heal and perform optimally, it must be provided with the key nutrients it requires for restoration of health and well-being. This overriding concept is the basis for all of our products, and is our inspiration for the goal of harnessing the natural power of nutrition to support the body. For more information please visit www.mendhealing.com or contact info@mendhealing.com.
Source: Nutrition For Healing