Mediscribes Looks Back on Another Robust Year
Press Release
•
updated: Jan 23, 2018
Mediscribes co-founder and CEO Vatsal Ghiya shared his thoughts on a difficult but very successful 2017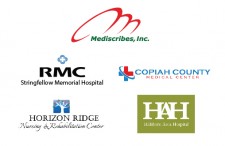 LOUISVILLE, Ky., January 23, 2018 (Newswire.com) - "What a year," said Vatsal Ghiya, Mediscribes co-founder and CEO. "The healthcare industry saw the biggest malware, third-party hacking and even IoT-related cybersecurity threats in 2017. With our operational scalability, we were always prepared for this type of challenge. Then, we met the challenge head-on when our team implemented transcription workflow for an Alabama-based medical center in under four hours. We also helped several healthcare facilities while the malware impact vendor was down."
"In many ways, last year was very successful for Mediscribes," said Terry Ciesla, executive vice president. "We're really excited about our new customers and the technology that we have developed and are now deploying. With our new transcription platform, we have continued to focus on creating easy-to-use applications that employ the highest levels of data security. By partnering with Amazon Web Services and deploying our transcription system in the AWS HIPAA-compliant cloud, our customers are assured of the most comprehensive security capabilities that satisfy healthcare's demanding information security requirements. Our customers continue to be our biggest cheerleaders and they enthusiastically support and are tickled by our sustained superior growth."
In many ways, last year was very successful for Mediscribes. We're really excited about our new customers and the technology that we have developed and are now deploying. With our new transcription platform, we have continued to focus on creating easy-to-use applications that employ the highest levels of data security. By partnering with Amazon Web Services and deploying our transcription system in the AWS HIPAA-compliant cloud, our customers are assured of the most comprehensive security capabilities that satisfy healthcare's demanding information security requirements.

TERRY CIESLA, EXECUTIVE VICE PRESIDENT
"We added four customers in our portfolio in Q4 2017 thanks to the continued unparalleled performance of our Customer Care and IT teams," stated Vatsal Ghiya.
About RMC Stringfellow Memorial Hospital:
RMC Stringfellow Memorial Hospital in Anniston, Alabama, is a 125-bed acute care hospital that was established in 1938. The hospital is accredited by the Joint Commission on Accreditation of Healthcare Organizations, a distinction that is awarded only to those healthcare facilities that maintain the highest standards of quality.
Stringfellow Memorial provides comprehensive acute care in-patient services, offers 24-hour emergency care, general and specialized surgical services including laparoscopic and laser surgery, same-day outpatient surgery and procedures, a full-service rehabilitation department and diagnostic testing procedures including MRI and CT scanning. Also, Stringfellow Memorial Hospital is the only RMC Health System facility to receive Chest Pain Accreditation by the Society of Chest Pain Centers.
About Copiah County Medical Center:
Hardy Wilson Memorial Hospital was established in 1950 under the Hill-Burton Act. It is now a 25-bed Critical Access Hospital and is a member of the American Hospital Association, Mississippi Hospital Association and licensed by the Mississippi State Department of Health. The leadership and staff of Hardy Wilson Memorial Hospital are proud to be in their brand new building, now operating as Copiah County Medical Center. CCMC is committed to being the resource for the community and surrounding areas they serve by providing quality services and compassionate care.
About Horizon Ridge Nursing & Rehabilitation Center (Henderson):
Located in Las Vegas, Nevada, Horizon Ridge Nursing & Rehabilitation Center (Henderson) is a part of Generations Healthcare. Responding to the great need for quality, skilled nursing in the rapidly growing area of southern Nevada, Generations Healthcare, which has been the standard of excellence in the markets it currently serves, is excited to bring this same level of excellence to Henderson and Las Vegas. This facility provides an extraordinary environment for the recovery and rehabilitation following an acute care episode. Horizon Ridge has the Generations Healthcare approach, meaning it will be "the best of the best." Horizon Ridge is a 121-bed facility with amenities that feature two cutting-edge rehab gyms, multiple dining areas, outdoor patios and Class-A living and patient rooms.
About Hillsboro Area Hospital:
Located in Hillsboro, Illinois, Hillsboro Area Hospital, a 25-bed hospital, is affiliated with the American Hospital Association, Illinois Hospital Association and the Illinois Critical Access Hospital Network. The Hillsboro Area Health Foundation helps fund state-of-the-art facilities, technologies and program enhancements so that they can continue to meet the healthcare needs of Hillsboro and the surrounding communities.
HAH has been selected as one of "The St. Louis Post Dispatch 2017 Top Workplaces." This list is comprised of the best places to work in the Greater St. Louis area.
About Mediscribes:
Based in Louisville, Kentucky, Mediscribes Inc. is one of the fastest-growing transcription and document management solution providers in the United States. Mediscribes Inc. is an ISO 9000-2001 certified company, offering cost-effective consolidated transcription solutions to major hospitals, clinics and other healthcare facilities. The firm specializes in providing highly accurate transcription services that strictly adhere to guidelines set by the Association for Healthcare Document Integrity (AHDI).
A Six-Sigma company, Mediscribes is process-driven, detail-oriented and is continuously evaluating and analyzing all critical processes for opportunities to improve. Additionally, we engage our customers as a matter of routine, soliciting feedback about our processes and service levels to ensure total satisfaction with our solutions.
Media Contacts:
Mediscribes Inc.
Terry Ciesla, EVP
866.473.5655
marketing@mediscribes.com
http://www.mediscribes.com
12806 Townepark Way,
Louisville, KY 40243
Source: Mediscribes Inc.
Tags