MedicalMine Inc. Announces Its Telehealth Solution: ChARM TeleHealth
MedicalMine Inc announces cloud-based legal-ready HIPAA-compliant TeleHealth solution for Independent Healthcare Practices
Press Release
-
Aug 1, 2016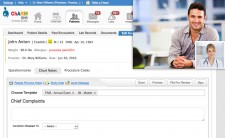 Pleasanton, CA, August 1, 2016 (Newswire.com) - ​​MedicalMine today announced ChARM TeleHealth - its cloud-based solution for medical practices to take advantage of an integrated EHR/PM/TeleHealth platform, accessible from browsers and mobile devices. Telehealth brings virtual patient visits to practices and patients, thus enabling convenient follow-up and patient care, and the potential for increased revenue.
The ChARM TeleHealth solution has multiple components, providing the practitioner with a video communication platform integrated with the EHR, with the ability to capture chart notes and access patient data simultaneously, while engaging with the patient on the video feed. The patient can log into the TeleHealth app from a browser or a mobile device, thus enabling convenient access from any location accessible with internet service. In addition, TeleHealth appointment scheduling, payment processing and legal paperwork, are all handled through a seamless workflow, integrated with the ChARM Practice Management system. The design also enables the practice to provide a secure HIPAA compliant service to customers, by integrating archiving, record retention and secure visit summaries that can be shared through ChARM PHR (our free Patient Portal).
More information about the solution, and the process for registration are available at https://charmtracker.com/telehealth
"We are very excited to launch an application that I believe, will be immensely popular both with our practitioners and patients", said Pramila Srinivasan, CEO, MedicalMine. "Our practitioners have approached us time and again to solve the problem of reaching patients who are increasingly mobile and would like convenient solutions to check-in with their doctors. We are confident that our well-thought out workflow will serve the needs of medical practitioners who wish to provide a higher level of care, improved access, and the ability to handle financial and legal matters in one integrated system. At the same time, our patients will appreciate the convenience of being able to check-in with their physician from almost anywhere. Our ChARM EHR.PM.RCM platform is significantly enhanced with the launch of this innovative TeleHealth solution".
ChARM TeleHealth, similar to the flagship medical records solution, ChARM EHR, is priced according to usage. This allows the practice to scale their usage as they expand services.
"We look forward to hearing from our first users, so that we can continue to drive innovation in our products, to strive towards the goal of transforming the delivery of healthcare", said Srinivasan.
For more information on ChARM EHR.PM.RCM visit www.charmehr.com. To get breaking ChARMEHR news, follow the company on Twitter at @charmhealth  and on Facebook at www.facebook.com/charmhealth
Source: MedicalMine Inc.
Share:
---
Categories: Healthcare, Healthcare Technology, Private, Group, and Managed Care Practices
Tags: electronic health records, electronic medical records, mhealth, practice management, telehealth, telemedicine
---