Media One Creative Selected by the Government of Canada to Participate in Canadian Trade Mission to the Consumer Electronics Show (CES)
Press Release
-
updated: Dec 23, 2018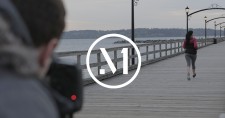 TORONTO, December 21, 2018 (Newswire.com) - Media One Creative will be exhibiting at the Consumer Electronics Show in Las Vegas from Jan. 8-11, 2019 as part of a trade mission run by the Canadian federal and provincial governments.
CES is the world's largest trade show for the business of consumer technologies and next-generation innovations. CES attracts over 170,000 attendees and 3,900 exhibiting companies from 150 countries.
While at CES, Media One Creative will be showcasing three of their divisions: M1 Content Studios, M1 Brand Films and M1 Events along with Personalized Video.
"We are honored to be a part of this delegation," said Derek Rider, Co-Founder and CEO, Media One Creative. "Our technology and service offering powers some of the world's largest consumer electronics brands – so joining them at CES is both an honor and a privilege."
Personalized Video is a tool which helps brands communicate one-to-one with their prospects and customers, by embedding their name and other personal information into video.
"We can create a video campaign and personalize it to a list of 100 to 1,000,000 individuals, then deliver the videos back to their customers to be sent out through their email marketing systems. We will be demoing the technology live at booth #1021 Westgate, in the Canadian Pavilion, in partnership with the Automotive Parts Manufacturers' Association (APMA) in their connected vehicle," said Kelly Formela, Head of Sales & Partnerships, Media One Creative. "We are seeing great results with the automotive OEMs in Canada and growing interest worldwide."  
"The future is personalization and CES is where we see what the future will hold," said Rider. "We have had great experience with our technology in the automotive sector and we are excited at the commercialization opportunities in the United States – we are thankful that the Canadian government sees the potential in both our technology and service offering."
Media One Creative has run successful personalized video campaigns for brands such as Hyundai, Mark's, Marketo, EY and many others.  
To learn more about Media One Creative:  https://mediaonecreative.ca
To connect with Media One Creative at CES:  https://mediaonecreative.ca/ces ​
Media Contact: 
Derek Rider
​Telephone: (647) 444-0327
​Email: derek@mediaonecreative.ca
Source: Media One Creative
Share:
---
Categories: Advertising and Public Relations, Marketing
Tags: CES, Consumer Electronics Show, Derek Rider, Kelly Formela, M1 Brand Films, M1 Content Studios, M1 Events, Media One Creative, Personalized Video, Video Production
---