MEDCURE Whole Body Donation Program Working to Support Local Crisis Intervention Team
Press Release
•
updated: Oct 4, 2017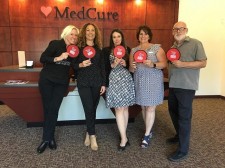 PORTLAND, Ore., October 4, 2017 (Newswire.com) - MEDCURE has announced that it will support the local Portland/Vancouver Oregon chapter of Trauma Intervention Program (TIP) with education and training seminars.
TIP is a group of specially trained citizen volunteers who provide emotional aid and practical support and resources to victims of traumatic events and their families in the first few hours following a tragedy.
TIP serves the public in a special way. We are looking forward to supporting this unique program.

Dale Fowler, Marketing Manager
TIP Volunteers are available 24 hours a day, 365 days a year. They are called by the emergency response system (police officers, firefighters, paramedics, hospital personnel and medical examiners) to assist family members and friends following a natural or unexpected death; victims of violent crime; victims of fire; disoriented or lonely elderly persons; people involved in motor vehicle accidents; people who are distraught and seeking immediate support; and survivors of suicide — just to name a few. No call is too small for the TIP Volunteer.
###
MedCure is a non-transplant, anatomical tissue bank devoted to compassionate, ethical services that connect the gift of whole body donors to medical researchers and educators worldwide; also providing state-of-the-art surgical training laboratories for physicians to learn advanced surgical procedures through lecture and hands-on practice.
MedCure's program contributes to advanced physician training, development of assistive medical devices, study of disease pathology, emergency medical training, improving medicines and more effective, less invasive treatments for patients — benefiting the medical community and society as a whole.
Contact: Dale Fowler
dale.fowler@medcure.org
http://medcure.org/donor
Source: MEDCURE Whole Body Donation
Related Media
Related Files
Additional Links