MedBridge Head of Clinical Strategy Joseph Brence Recognized With 2022 Future Leader Award
Press Release
•
Sep 13, 2022
Brence is honored for his transformative leadership in home health and home care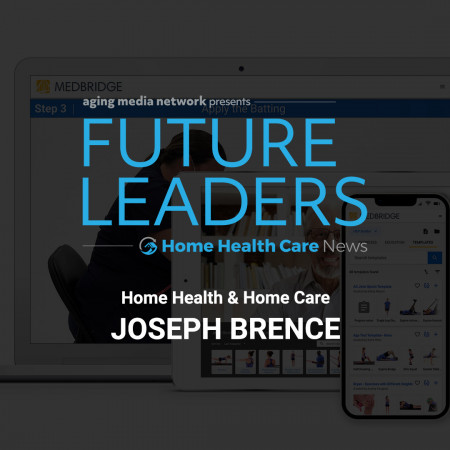 SEATTLE, September 13, 2022 (Newswire.com) - Joseph Brence, Head of Clinical Strategy for MedBridge, the industry-leading online education and patient engagement solution for healthcare professionals, has been recognized as a 2022 Future Leader in the Home Health and Home Care category by Aging Media Network, the parent company of Home Health Care News.
Aging Media's Future Leaders are recognized for high performance, passion, and realizing vision into action while advocating for seniors and their caregivers.
"Home health is an essential pillar of our healthcare system in the United States," said Brence. "With our aging population and innovative ways to deliver care now made possible by new digital healthcare technology, I'm really excited to be part of a company creating leading-edge solutions to enable increasingly personalized and attentive care in the home."
As a healthcare strategist with a demonstrated track record of clinical excellence, Brence is a key driver of the MedBridge initiative to help home health agencies elevate the level of care, improve staff retention, and reduce costs. With staff shortages and reimbursement woes posing major challenges for home health agencies over the past year, MedBridge is changing the story for partnered agencies, helping them decrease onboarding time and costs while also ensuring confident and competent care for patients.
"An essential part of our organization's mission is to help home health agencies adapt and thrive in the midst of significant changes," said MedBridge Interim CEO Jonathan Berkowitz. "Joe consistently brings dynamic energy, strategic leadership, and deep insight to his role, allowing us to better serve our home health clients and deliver on our mission."
About Future Leaders Awards 2022
The Future Leaders Awards program, presented by Aging Media Network, is designed to recognize up-and-coming industry members who are shaping the next decade of senior housing, skilled nursing, home health, and hospice care. Future Leaders are nominated by their peers and are recognized as dynamic leaders who are shaping the next decade of care delivery. These passionate workers know how to put vision into action for the good of seniors and aging industry professionals, and they are committed to the wellbeing of the aging population and the industries they serve. For more information about the Future Leader Awards and to view the complete Future Leaders Class of 2022, please visit https://futureleaders.agingmedia.com/.
Source: MedBridge