Mechdyne Creates Engaging Experiences for Simulation and VR Environment
Company Brings Complex Interactivity and Behaviors to Models and Simulations for Use With Immersive Displays Such as CAVEs, Powerwalls, Head Mounted Displays.
Press Release
-
updated: Sep 9, 2019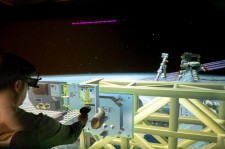 MARSHALLTOWN, Iowa, September 9, 2019 (Newswire.com) - Mechdyne Corporation, an advanced visualization powerhouse and pioneer in immersive display systems, is extending its capabilities in creating virtual worlds and converting data into spectacular visualizations. With its proven track record of providing turn-key virtual reality and augmented reality (VR/AR) solutions, the company takes an agile approach to content development for everything from 3D computer-aided design (CAD) models to training simulations and scientific data visualization.
The Mechdyne software team is trusted by Fortune 500 companies to harness the power of the latest commercially available game engines to bring compelling experiences that reduce costs, accelerate schedules, and improve safety. Whether it's working with an architect to demonstrate a view from a particular window, or working with management to train technicians to detect leaks in a power plant, Mechdyne develops realistic immersive visualizations that support critical decision making and speed learning processes.
"We make a commitment to uncovering our clients' vision and working closely together to define the user experience," said David Gsell, GM, Software Business Unit at Mechdyne. "Our highly skilled and creative software team follows a collaborative process. We build content incrementally and implement a continuous feedback loop to ensure that development is on track and aligned with our client's vision."
The Mechdyne team is adept at importing multiple CAD applications into complex, interactive VR/AR environments for large-scale display systems like CAVEs and Powerwalls with HMDs. They use game engines such as Unity and Unreal to author experiences and have developed the getReal3D™ plug-in that makes Unity compatible with large-scale VR systems.
​Mechdyne brings a wealth of expertise to developing original experiences as well as assigning realistic behaviors to existing content and environments. The company is particularly skilled at integrating head-and body-motion tracking, clusters of multiple computers, haptic devices as well as photorealistic detail, and making conversions without data losses.
"Mechdyne is here to help organizations get the most value from their 3D data and complex simulations," says Gsell. "We help our customers by designing and delivering all elements of a turn-key solution, including developing content, converting models into stereoscopic applications, and space planning for large-scale display systems. Our goal is to make sure our clients realize a return on investment with discoveries and experiences that were not previously possible."
About Mechdyne Corporation:
Mechdyne is a broad-based technology company developing solutions for VR, AV/IT, software and content development, and IT and technical support services. The company has a track record of success with innovative solutions that enable research, improve design, speed decision making and push the boundaries of both science and technology. Headquartered in Marshalltown, Iowa, Mechdyne serves a global client base that includes leading government laboratories, university and research centers, energy, aerospace, manufacturing, and health care organizations.
For More Information:
Jeff Brum​
Marketing Manager​
P: 519.664.0036 ext. 223
Email: jeff.brum@mechdyne.com
Source: Mechdyne Corporation
Share:
---
Categories: Business Technology
Tags: augmented reality, cad, head mounted display, immersive VR
---