Mechdyne Announces 8K Resolution AV and Virtual Reality Initiative
Native 8K Display Solutions Available Now and Multi-Channel Systems Coming Soon
Press Release
-
updated: Dec 9, 2019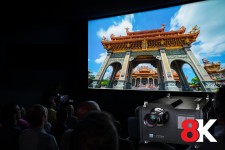 MARSHALLTOWN, Iowa, December 9, 2019 (Newswire.com) - ​​Mechdyne announced today that it is now offering projection-based 8K resolution systems for both 2D audiovisual (AV) and 3D Virtual Reality (VR) applications. For large-scale and room-sized displays, 8K resolution, which is four times higher than today's ultra-high definition (UHD) 4K, brings detailed visualizations and complex computer-generated graphics to life. With 23 years of experience providing customized display solutions that include complex image generation, Mechdyne has the depth of understanding to help organizations benefit from this next standard of display technology.
8K display offers 7680 X 4320 pixels of resolution; a new level of fidelity bringing value to video production and editing applications, live productions, and medical and scientific research, where increased detail can lead to new insights. It serves presentation environments where exceptional image quality can facilitate decision making. 8K also benefits windowing technology that enables multiple sources to display dynamically on one screen with excellent detail in each window. 
Mechdyne has delivered turn-key systems at resolutions up to 200 million pixels (creating a 100 million pixel 3D immersive space).  The Mechdyne CAVE2 is a 72 million pixel hybrid 2D/3D capable collaborative working environment. Mechdyne designers and technicians have experience with the specification, configuration and synchronization of the complex computing systems required for this new level of visual acuity, especially when enabled for 3D virtual reality. 
One projector that is native 8K-ready for AV and VR is the new Digital Projection INSIGHT LASER 8K projector. This incredible new TAA-compliant DLP projector is designed for demanding medical, research, simulation and entertainment applications, offering vibrant colors and high levels of contrast. The 25,000 lumens brightness makes this projector applicable to just about any environment. 
Stereoscopic 3D applications for 8K are focused primarily on virtual reality use cases where spectacular immersive visualizations can promote discoveries in research, product design (eg. automotive), simulation and highly realistic interactive experiences. For 3D display, images of left and right eye perspectives are presented alternately at high speed and synchronized with electronic shutter glasses worn by viewers. With double the computing requirement, the experts at Mechdyne are adept at addressing the increased challenge of perfect synchronization.
About Mechdyne Corporation
Mechdyne Corporation is a broad-based technology partner specializing in audiovisual and information technologies (AV/IT), visualization and software solutions, immersive virtual and augmented reality technologies, and technical support services. We address complex projects where an in-depth understanding of user requirements leads to the development of customized solutions involving elements of display, graphics computing, software, and professional services. Mechdyne serves a global client base.  
Source: Mechdyne Corporation
Share:
---
Categories: Educational Technology
Tags: 8K, audiovisual, high resolution, projection, stereoscopic, virtual reality, visualization
---