MDacne Launches a Revolutionary, Medical-Grade Dark Spot Remover Kit for People With Acne
The launch of this kit is part of MDacne's mission to provide personalized physician-free treatment for active acne and post-acne signs
Press Release
-
updated: Feb 13, 2019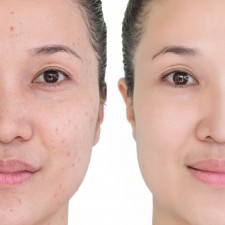 SAN FRANCISCO, February 13, 2019 (Newswire.com) - MDacne, creator of the world's first AI-based personalized, physician-free acne treatment, announces today the release of the post-acne Dark Spot Remover kit, specially formulated for people with post-acne dark spots and hyperpigmentation.
Formulated by a world-renowned dermatologist, Dr. Yoram Harth, this revolutionary new dark spot remover night cream is inspired by the gold-standard prescription Kligman Formula used by dermatologists to treat hyperpigmentation. This novel prescription-free formula combines powerful, gold-standard medical-grade compounds (Hydroquinone 2%) with a proprietary complex of anti-inflammatory botanicals and natural skin-lightening agents.  
Dr. Harth, co-founder and chief medical officer of MDacne, says, "As a dermatologist, I've been using the Kligman Formula to treat post-acne dark spots and severe cases of hyperpigmentation for decades. Our unique MDacne Dark Spot Remover is highly effective and safe for use by people with sensitive, acne-prone skin and is available on our app and website  without a need for a doctor's prescription."
The Dark Spot Remover launch is accompanied by the release of a proprietary, oil-free, water-resistant, SPF 30 active sunscreen. This lightweight, daily sunscreen, specially formulated for acne-prone skin, provides broad-spectrum, UVA/UVB protection with a shine-free finish. As an active sunscreen, it is infused with plant-based ingredients, including green tea extract, licorice root extract and Vitamin C, which help fade dark spots, even skin tone and boost the skin's natural healing.
These new products are offered as a complement to the MDacne app and customized acne-treatment solution. More than half a million people have used the MDacne app to analyze their skin and, since launching their product line in January 2018, tens of thousands have subscribed and use the personalized acne-treatment products to treat their acne.
MDacne CEO Oded Harth says, "Our mission is to democratize the treatment of acne and provide affordable and effective treatment for both active acne and post-acne signs. We're excited that our users now have access to a highly effective treatment for post-acne signs at a fraction of the cost of dermatologist office visits and prescriptions."
Based in San Francisco, MDacne — a Y Combinator company — was founded by Oded Harth and his father, Dr. Yoram Harth. Oded is an accomplished mobile software engineer and computer vision expert with expertise in direct-to-consumer applications. Dr. Yoram Harth is a world-renowned dermatologist, a former research fellow at the Department of Dermatology at Columbia Presbyterian in New York and winner of the World Street Journal Europe award for his innovations in the treatment of acne.
Over 50 million Americans struggle with acne and only 10 percent ever see a dermatologist. With the MDacne mobile app, a user just takes a selfie and the app's proprietary computer vision and deep learning technologies analyze their acne and then the app provides them with a full kit of personalized anti-acne medications. All MDacne products are formulated by dermatologists using FDA-approved, medical-grade ingredients. The MDacne app is built to support the users throughout their treatment and ensure commitment to their treatment plan for the best results. Within the app, MDacne users can chat with a dermatologist, track their skin's improvement, read tips to reduce breakouts and more.
Oded concludes by saying, "Our unique combination of powerful, AI-based image-analysis technology and medical-grade products provides faster, more affordable and more effective treatment to the millions of people currently struggling with skin disorders, starting with the most common and poorly treated condition — acne."
MDacne is backed by some of the top Silicon Valley investors, including Y Combinator, Khosla Ventures, Redo ventures and SVangel.
The MDacne Dark Spot Remover Duo kit can be purchased on the MDacne website or by downloading the MDacne app.
For more information about MDacne, visit www.mdacne.com.
Media Contact: Meggy Hearn, Phone: ‭347-732-5318,‬  Email: press@mdacne.com
Source: MDacne
Share:
---
Categories: Dermatology/Skin Diseases, Beauty and Cosmetic Products
Tags: acne, acne scars, corrector, dark spots, hyperpigmentation, lentigines, MDacne, MDalgorithms, melasma
---