McClure, GenX Capital Partners Close Equity for $5.885MM Multifamily Acquisition
The Miami based real estate investment banking firm finishes May with $21 million in closings
Press Release
-
updated: May 30, 2018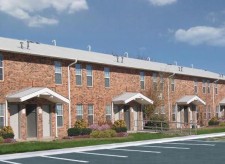 MIAMI, May 30, 2018 (Newswire.com) - GenX Capital Partners continues to be the "go to" equity source for market rate and affordable multifamily acquisitions, closing the LP equity for multifamily giant Millennia Companies $5.885MM acquisition of 152 units in Lubbock, TX, adding to their 30,000+ unit portfolio. As of 2017, Millennia Companies was Ranked The 3rd Largest Affordable Housing Owner in the United States, per Affordable Housing Finance magazine.
Millennia Companies, however, is anything but just an affordable multifamily operator. In the past 18 months they have aggressively been investing in their own backyard of Cleveland, as they see the incredible growth and traction it is beginning to form. Early last year, they acquired the Key Tower and Marriott Convention Center for $267MM which was underwritten by Berkadia and Michael Friedman, who heads up Millennia Capital. They continued this growth by adding the Garfield Building and repositioning it into luxury apartments and the hottest restaurant in the city, The Marble Room. From there they acquired the historic 295 unit, Statler Arms, right up the street, with $9MM of the equity underwritten by McClure's GenX Capital Partners through a fund they work closely within Cambridge, MA. This past month they acquired 925 Euclid, the gorgeous, 1.4MM square foot marble/stone asset that sits directly downtown from their other prized assets, as they look to make this the premier mixed-use property in the entire State of Ohio.
"GenX Capital Partners looks forward to working closely with Mike Friedman and assisting in underwriting the equity of Millennia's $350 million transformations of 925 Euclid. When it is completed, it will be on par with some of the top mixed-use, Class A assets in downtown New York, Chicago, Boston and the rest. It will be breathtaking," McClure ended.
GenX Capital Partners specializes in investing and securing LP and GP equity for viable commercial real estate projects (most notably multifamily, hospitality and mixed-use), utilizing "under the radar" private equity funds in the US and abroad many developers and brokers didn't know exist. And while GenX Capital Partners has underwritten equity checks from $2 million to more than $10+ million for such major operators as Hudson, Stark Enterprises, Millennia Companies, etc., and have the ability to capitalize deals in excess of $300 million, their bread and butter is midsized real estate developers and operators looking for programmatic equity partners who can contribute checks in the $1 million to $20 million range.
"We have cultivated strong relationships with equity groups in the US and Europe that don't advertise their services but are very active in the LP and GP equity space, and this allows us to move a lot quicker than other equity underwriters and create more options. However, we have become more active in acquisitions for our own account, acquiring and repositioning opportunistic residential developments, hotels and stalled multifamily projects in select geographic locations, primarily the East Coast. We are now looking to invest more of our own funds into deals we can control while still deploying equity capital from our investment partners like we have the past several years. We are essentially looking to increase our own portfolio while investing and securing equity and bridge equity for seasoned clients", McClure ended.
To learn more about GenX Capital Partners go to www.GenXCP.com 
Source: Todd Stanton
---
Categories: Real Estate
Tags: GenX Capital Partners, Mark McClure, real estate equity, real estate financing, real estate private equity
---