McClure, GenX Capital Partners Close $9MM in JV Equity for $53MM Multifamily Acquisition
Mark McClure, managing partner of Miami based GenX Capital Partners, announced Tuesday they closed $9MM in JV equity for Millennia Companies $53MM acquisition and redevelopment of the 295 unit Statler Arms building in downtown Cleveland.
Press Release
-
updated: Jan 30, 2018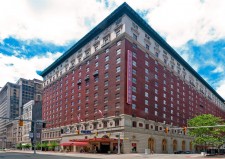 MIAMI, January 30, 2018 (Newswire.com) - Statler Arms Apartments is a historically renovated former Statler Hotel high-rise in the Theater District on East 12th Street and Euclid in downtown Cleveland that was converted into 295 apartments in 2001. Millennia Companies closed on the building this past Tuesday with plans on renovating and redeveloping the tired asset into a higher end property, geared towards the ever-expanding market of Millennials flocking to downtown Cleveland along with 30-40+ age professionals.  Berkadia underwrote the debt while GenX Capital Partners secured the equity for the "all in" $53MM transaction. 
"Cleveland is in a revival period. It's not your grandfathers or fathers Cleveland from the 70's, 80's and early 90's, but transcending into a much hipper, cleaner and safer environment that quite honestly is a pleasure to visit on a year-round basis.  More importantly, it has become a magnet for Millennials and 30 and 40 something professionals who want that big city lifestyle with all the perks but not the high costs. Millennia Companies has certainly taken notice of this and heavily investing in their 'backyard', with their $300 million acquisition and renovation of Key Tower, Marriott, Garfield Building and now the Statler Arms and are a driving force, if not the driving force, in this revival," GenX Capital Partners McClure stated.
While most private equity funds are eager to invest in top MSA's, Cleveland is still shaking off its image as a rough and stagnant city, thus providing a barrier to real estate developers and entrepreneurs trying to tap the equity markets for viable "value add" projects. GenX Capital Partners, however, has proven adept at providing equity in these second and third-tier markets, seeing growth potential where others see stagnation.
"No question, it's still a heavy lift if you will, procuring equity financing for downtown Cleveland projects, but we have access to equity partners not many developers are aware of and sort of fly under the radar, not to mention Millennia and its CEO Frank Sinito are A+, high-quality sponsors, so that was helpful. And combining that with the incredible teamwork from Mike Friedman of Millennia Capital we were able to pull together the needed equity with one of our funds to get this massive deal to the closing table," McClure ended.   
To learn more about GenX Capital Partners private equity platform, go to http://www.GenXCP.com.
Source: Todd Stanton
---
Categories: Real Estate, Business Finance, Real Estate Investments
Tags: GenX Capital Partners, Mark McClure, real estate equity, real estate financing, real estate private equity
---