MCCI and Nordic Propeye Partner to Distribute Innovative IoT Products in the US Market
Press Release
•
May 31, 2023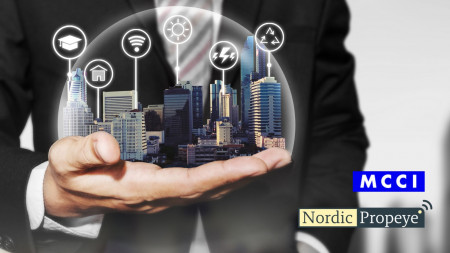 ITHACA, N.Y., May 31, 2023 (Newswire.com) - MCCI, a leading systems engineering provider, is excited to announce a strategic partnership with Nordic Propeye, a renowned provider of cutting-edge IoT solutions. This collaboration aims to distribute innovative IoT products to the US market, empowering businesses and consumers to build smarter communities.
As the world becomes increasingly connected, IoT emerged as a transformative force across industries, enabling smart and interconnected systems that enhance productivity and improve everyday life.
After working with Passive House NY and The Things Network NY, MCCI is thrilled about this new partnership. Terry Moore, CEO of MCCI, stated, "Our collaboration with Nordic Propeye is a significant milestone in bringing the latest innovations to our clients. Integrating their cutting-edge IoT products positions us to meet evolving market needs."
Nordic Propeye, a recognized leader in IoT technology, is equally enthusiastic about the partnership. Boris de Bruin, Head of Marketing at Nordic Propeye, stated, "Teaming up with MCCI provides us with an excellent opportunity to expand our reach and introduce our advanced IoT solutions to a wider audience. Together, we aim to empower organizations and individuals with connected devices that digitize buildings, helping save resources and improving indoor climate to create a more sustainable future".
This partnership will offer IoT products across sectors like smart homes, industrial automation, healthcare, and transportation. These innovative offerings optimize operations, streamline workflows, provide real-time insights for businesses, and enhance the connected lifestyle for consumers.
Combining MCCI's market presence, technical expertise, and customer-centric approach with Nordic Propeye's IoT technologies and solutions drives innovation and provides comprehensive IoT solutions tailored to the US market.
###
See the newly available OY1211 LoRaWAN® CO2 meter US915 now.
About MCCI:
MCCI is a leading technology solutions provider with expertise in IoT, USB, custom hardware and software development, and systems engineering. MCCI deploys a proven methodology to support sustainable product development lifecycles and compatibility risk mitigation.
About Nordic Propeye:
Nordic Propeye has over 20 years of experience with digitization of residential housing buildings and has pioneered the Internet of Things industry with strong expertise in radio technology. The company connects over 60,000 apartments today and runs energy savings solutions on over ten million sq. ft. of property. The company has made it its mission to help its customer to make their real estate and condominiums lean, clean and green.
Source: MCCI