Maximum Fantasy Sports Keeps All NFL Players in Play During Fantasy Leagues
Press Release
•
Oct 12, 2016
Maximum Fantasy Sports offers fantasy football leagues with options on how to keep all NFL players in games even when injuries or Bye weeks intervene.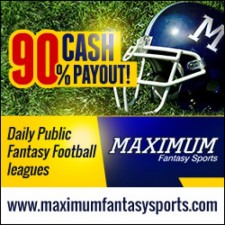 Chicago, IL, October 12, 2016 (Newswire.com) - ​Maximum Fantasy Sports (www.maximumfantasysports.com) currently offers DFS leagues unique to the industry, such as their 4-Week Frenzy leagues (Monthly Fantasy Football leagues). However, their unique configuration options even make their way into some of their standard leagues, whether those are Private fantasy football leagues or their Weekly and Daily Fantasy Football Leagues.
One such option is currently being offered in their Monthly Fantasy Football leagues. Since the NFL Bye Week season is so long, it makes it difficult to run certain contests during those weeks. In their monthly leagues, MFS offers a Bye Week Rollover option. This option makes drafting players with upcoming Bye Weeks useful, or even more attractive. Players with Bye Weeks in week 7 could be drafted in Week 6 and optioned to roll whatever points they score in Week 6 over as their score in Week 7. This is definitely a boon-or-bust approach to filling out a lineup for Week 7, but it does put an interesting twist to how a team builds its lineup. Imagine being able to start Cam Newton versus the sieve that is the Saints' defense this week and get the same number of points for your starting QB next week!
Now, in Weekly and Daily Fantasy Football leagues, Bye Weeks are non-factors in a silo as there is no prior week to roll-over from, but there is still the concern of having a starting player go down to injury. Whenever a player is lost during a game, his fantasy points stop accumulating, providing a difficult barrier to victory, especially if lost early in his game.
Maximum Fantasy Sports provides leagues with options to populate a bench and being able to swap in a new player to fill in the remaining half or quarters of a starting position occupied by a player who is underperforming or injured. Having a bench in DFS is unique to MFS.
"The normal fantasy sports participant is actively connected to their fantasy leagues and is aware of the up-to-the-moment performance and injury status of their players. Player news is easily accessible through text updates, sideline reporters and Twitter so we want to provide our players with the opportunity to stay competitive until their contest is over," stated Bill Parsons, President of Maximum Fantasy Sports.
Full descriptions of these leagues can be found on their website's Public League ruleset. Maximum Fantasy Sports leagues are commonly built using a Live Online Draft and not a salary cap, which means that an NFL player is only owned once within a contest. MFS mitigates any concerns with this approach by keeping the number of teams per contest lower than a full-season league so teams can start a full roster of NFL starters.
Using an Online Draft and keeping the number of participants low helps take out the risk often found in Daily Fantasy Sports leagues where the majority of the cash contests are won by a minority of the players who regularly play, often referred to as "Sharks". Available fantasy football leagues are found on the company's Open Leagues page with their entry fee and available draft times.
Source: Maximum Fantasy Sports
Related Media