Matthew West Invites You to 'Come Home for Christmas' - New Song Out Today
Press Release
•
Oct 28, 2022
Holiday Tune to be Featured as Great American Family's Network Theme Song for Their Great American Christmas Movie Season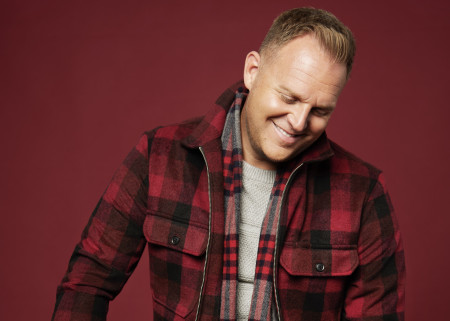 NASHVILLE, Tenn., October 28, 2022 (Newswire.com) - Matthew West invites you to "Come Home for Christmas," with his enchanting new holiday tune - out today across all digital streaming platforms. Kicking off the most wonderful time of the year with a dazzling announcement, West has partnered with Candace Cameron Bure, Bill Abbott and Great American Family to highlight the endearing carol on their Great American Family channel all holiday season. Fans can hear "Come Home for Christmas" for eight weeks during Great American Christmas celebrating their holiday films.
Listen to "Come Home for Christmas" HERE.
"I am so excited to be partnering with the Great American Family network this holiday season," shares West. "I love Christmas music so much, and each year I find myself sitting down at the piano penning a new Christmas tune inspired by my love of this most wonderful time of the year. 'Come Home for Christmas' is not just a song, it's an invitation for every heart to return to the wonder, the peace, the love, and the hope that this holiday season offers to every heart. I hope when people tune in to watch their favorite holiday films on the network that this song will serve as a musical reminder of what Christmas is all about."
"Matthew is one of my favorite storytellers through music of all time," shares Bure. "The originality and authenticity of his Christmas songs can be felt within his lyrics and melodies. I'm incredibly thrilled that he is a part of Great American Family, and that our audience can experience such moving music that is unlike any other."
"Original music plays an essential role in creating a cozy and memorable Christmas experience and is a key differentiator for Great American Family in the holiday movie space," said Abbott, President and CEO of Great American Media. "Matthew's inspirational 'Come Home for Christmas' perfectly embodies our 'Welcome Home to Great American Christmas' theme and the song is sure to resonate with our audience this holiday season."
West was recently nominated for an American Music Award for Favorite Inspirational Artist - voting open here. The NSAI Songwriter-Artist of the Year also announced his upcoming double album MY STORY YOUR GLORY set for release February 17, 2023. The five-time Grammy® nominee has had a monumental year: "Me On Your Mind" spent 6 weeks atop the Mediabase Christian Airplay chart and the Billboard Christian Airplay Chart for 5 weeks. His fifth consecutive chart-topper marked West's 25th number one song combined as an artist and songwriter - now at 27. His sixth book "The God Who Stays" is out now. He is set to hit the road for the AN EVENING AT THE STORY HOUSE WITH MATTHEW WEST tour kicking off November 3 then will return to Franklin, TN for his Come Home for Christmas weekend December 2-4.
Source: Matthew West, singer-songwriter
Tags
Related Files