Matt Frauenshuh and Fourteen Foods Launch Fundraising Campaign for Folds of Honor
Press Release
•
Sep 14, 2023
Fourteen Foods, led by CEO Matt Frauenshuh, has partnered with the charity Folds of Honor to raise scholarship funds for the families of fallen and disabled military members.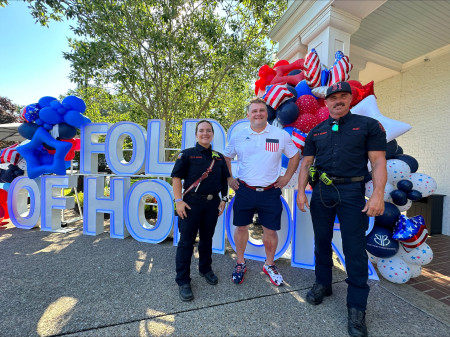 FRANKLIN, Tenn., September 14, 2023 (Newswire.com) - Matt Frauenshuh, the visionary CEO of Fourteen Foods, is proud to announce the kickoff of a charitable campaign aimed at supporting Folds of Honor, a non-profit organization dedicated to providing educational scholarships to the families of fallen and disabled veterans. The campaign commenced on Sept. 1, 2023, and promises to make a profound impact on the families of those who have sacrificed so much for our nation.
At the heart of this campaign lies a deep commitment to giving back to those who have served and protected the United States. The funds raised for Folds of Honor enable the organization to provide scholarships to the children and spouses of fallen or disabled service members. These scholarships empower the recipients to pursue their educational dreams and build a brighter future.
Fourteen Foods is excited to partner with country music hitmakers Parmalee, known for their heartfelt music and generosity, to engage communities nationwide in this meaningful cause. The synergy of this partnership amplifies their shared commitment to giving back and honoring the sacrifices made by fallen heroes. Matt Frauenshuh, a dedicated leader with a strong sense of purpose, believes in the power of community and the duty to support those who have made incredible sacrifices for our freedom.
"We are deeply committed to supporting Folds of Honor and the incredible work they do," says Frauenshuh. "Our hope is to honor the bravery and sacrifice of our veterans by providing educational opportunities for their loved ones. We believe that education is a powerful tool for shaping a better tomorrow, and we are proud to be part of this noble cause."
Folds of Honor is a non-profit organization that provides educational scholarships to the families of fallen and disabled service members. Their mission is to honor their sacrifice by empowering the spouses and children they leave behind through education.
Fourteen Foods was established in 2002 and owns and operates more than 240 DQ Grill & Chill® braziers and restaurants in 13 states. The company is the largest franchisee for the corporation. Matt Frauenshuh joined the family business in 2006 when seven stores comprised the company. Matt now leads the multi-owner company as Chief Executive Officer. Matt received his undergraduate degree in business economics from St. Olaf College and continued at the University of Minnesota's Carlson School of Management, where he received his MBA.
###
For more news and information about Fourteen Foods, please visit their website https://fourteenfoods.net/.
For more information about Matt Frauenshuh, please visit LinkedIn.
XXX
Source: Fourteen Foods