Maternity Tech Innovation Showcase Comes to Reach's Happy Mama Expo
Press Release
•
Oct 20, 2021
The biggest maternity show of 2021 is Saturday, October 23. The expo is online and free. Get your ticket today.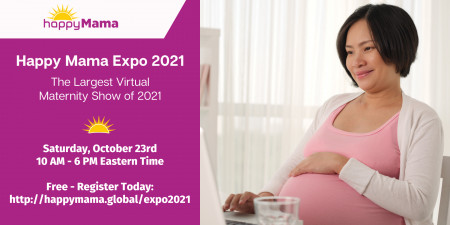 SAN DIEGO, October 20, 2021 (Newswire.com) - Happy Mama Expo, Saturday, October 23, from 10 AM to 6 PM Eastern, hosted by Reach Healthcare, brings to center stage a plethora of topics for pregnant women and new moms, including career, childcare, health and nutrition, relationships and life balance, with a Maternity Tech Innovation Showcase added to the mix. The day is full of expert panel discussions, relatable and inspirational moments by influencers and everyday moms.
For example, postpartum rehabilitation is a hot topic being discussed at the expo. "Pelvic floor recovery is something that prenatal classes rarely cover and that can help women prevent chronic incontinence and other disorders postpartum. The Happy Mama Expo is a fabulous opportunity for moms to learn more about pelvic health and their options for a proactive postpartum recovery," explains Laura Vidal Borrell, CEO of HappySneeze, http://happysneeze.com
Digital technology also takes a front seat at the Happy Mama Expo, featuring leading tech innovators in maternal health and wellness - everything from virtual reality (VR) therapeutics to online peer support groups and from mental health to telelactation support services.
"We are very proud to be included as participants in the Happy Mama Expo and to be featured among innovators who, like us, are determined to create solutions that address the challenges that so many moms and parents face," professes CEO Aaron Gani of BehaVR, the creators of NurtureVR for maternal mental health and wellness, https://www.behavr.com/focus-areas/maternal-health/.
Here is a lineup of innovation showcase presenters:
Believer Her, Online peer support group for black moms
HappySneeze, Do you pee when you sneeze?
NurtureVR, Maternal health and wellness VR program
Sonder Health, Evidence-based telemedicine and lactation services and support solutions
Vital Start, The vital sign for well-being
The show features digital exhibit booths, lounges, a digital swag bag for all attendees, and loads of prizes. Small business owners can promote their products and services in the expo's digital swag bag for free. Visit the event website for more information: http://happymama.global/exhibit
This national maternal health community event is powered by Accelevents, an all-in-one virtual & hybrid events platform that empowers event organizers and marketing professionals to create authentic human connections.
LINKS:
Happy Mama Expo Tickets http://bit.ly/happymamaexpo2021
Happy Mama Website https://happymama.global
ABOUT REACH
Reach is a 501c3 global social impact organization focused on improving the healthcare experience of both patients and providers. Maternal mortality and morbidity prevention is a top priority area for the organization.
Reach is a member of the American Heart Association's Innovators' Network, a consortium that connects entrepreneurs, providers, researchers and payers with the goal of advancing the development of healthcare technology. The Happy Mama app incorporates the American Heart Association's science-based health management plans, called CarePlans, into the app.
Source: Reach Healthcare
Related Media