Wantagh Resident Scott Lannan is Working to Launch the Santa Cause, a New Campaign to Help Those Who Are Sick
By donating a portion of all the sales of Santa merchandise, Lannan believes it could generate funding to help those who are sick.
Press Release
-
updated: Dec 21, 2018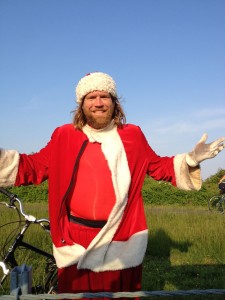 WANTAGH, N.Y., December 21, 2018 (Newswire.com) - Scott Lannan, a Wantagh resident, who has been known to ride his bicycle in town dressed as Santa, has been working to launch a new campaign. What he calls The Santa Cause is an initiative to raise funding through the sale of current Santa merchandise including pictures, lawn decorations and other Santa gear. He believes taking a portion of these sales could fund initiatives to help the sick and those in need.
"I want us to get back to the real meaning of Santa as a giver, more than the commercialized industry that Santa now represents," explains Lannan. "The legend of Santa originated with St. Nicholas in what is now Turkey. His story was about giving selflessly. I think if we can use that image of Santa today, we can get back to a place of helping those who are less fortunate, particularly those who are sick."
Health is important to Lannan. He believes it's also important while helping the sick to show Santa in a new way. With the rates of childhood obesity rising, Lannan believes it's time to show this most beloved childhood icon in a way that promotes activity and good health, which is why he's Santa on a bike.
"Allowing Santa to be active and in better health rather than obese encourages not just youth, but all those older father and grandfathers who play Santa to do so in a healthy way," says Lannan. "Many balk at the idea because of tradition, but there's no reason why Santa has to carry so much weight. Santa being active and eating healthy could be a great role model to children and adults of all ages."
To learn more about the campaign and how to help, contact Scott Lannan at 516-408-0219 or email thesantacause@outlook.com.
About The Santa Cause
The Santa Cause is an initiative launched by Scott Lannan a Wantagh, New York resident, who wants to use Santa merchandising as a way to raise funding to help those who are sick and in need.
Media Contact:
Scott Lannan
Phone: 516-408-0219
Email thesantacause@outlook.com
Source: Scott Lannan
Share:
---
Categories: Charitable Contributions
Tags: active lifestyle, charity, fitness, funding, health, humanitarian, lifestyle, obesity, santa, santa cause, Scott Lannan
---