Marzzacco Niven & Associates Attorneys Rebecca Bailey & Lynette Carter Elected to DCBA Board of Directors
Press Release
•
updated: Feb 15, 2023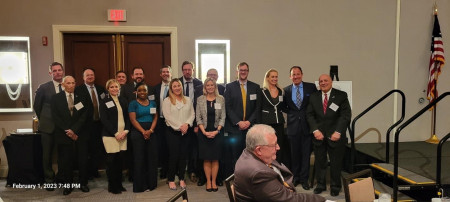 HARRISBURG, Pa., February 14, 2023 (Newswire.com) - Marzzacco Niven & Associates is pleased to announce that attorneys Rebecca Bailey and Lynette Carter have been elected to the Dauphin County Bar Association's (DCBA) Board of Directors. The DCBA is a professional organization with almost 1,500 members. The lawyers in DCBA are dedicated to community service, networking, and professional development opportunities in Dauphin County.
As members of the board, Attorney Bailey and Attorney Carter will serve as ambassadors for the DCBA, work to increase attorney engagement, and participate in DCBA events and activities. They will also work to meet overlooked legal needs in the Dauphin County community and help to promote diversity within the legal profession.
Although this may be Attorney Bailey's most recent professional accomplishment, it is certainly not her only distinction. She was named a Super Lawyers Rising Star in 2019, 2020, 2021, and 2022. Attorney Bailey represents clients in the areas of personal injury, workers' compensation, and employment discrimination.
Before joining Marzzacco Niven & Associates, Attorney Carter served as a prosecutor and deputy district attorney for the Dauphin County District Attorney's office. She also served as in-house counsel for the Pennsylvania House of Representatives. Attorney Carter has served as Director of the Dauphin County Bar Association and the Secretary for the Pennsylvania Bar Association's Minority Bar Committee. Attorney Carter represents clients in the areas of personal injury and Social Security Disability.
Marzzacco Niven & Associates has more than a century of combined experience fighting for the citizens of Pennsylvania. We've recovered hundreds of millions of dollars for injured clients and have fought over 250 cases in court. We work on a contingency basis for all personal injury cases, which means you won't pay any attorneys fees unless we recover a settlement or verdict for you first. Schedule a free consultation with Marzzacco Niven & Associates today to discuss your case.

Marzzacco Niven & Associates
https://www.klnivenlaw.com/
Harrisburg Law Office
945 East Park Drive, Suite 103 Harrisburg, PA 17111
(717) 231-1640
York Law Office
2550 Kingston Road, Suite 210A York, PA 17401
(717) 955-8998
Wyomissing Law Office
833 N. Park Road, Suite 103, Room A Wyomissing, PA 19610
(717) 388-2325
Chambersburg Law Office
79 St. Paul Drive, Suite 1 Chambersburg, PA 17201
(717) 388-2378
Carlisle Law Office
354 Alexander Springs Road Carlisle, PA 17015
(717) 995-8732
Carbondale Law Office
30 Lincoln Avenue, Suite 101 Carbondale, PA 18407
(717) 995-8810
Lancaster Law Office
2173 Embassy Drive, Ste 123, Lancaster, PA 17603
(717) 616-2954
Lebanon Law Office
937 Willow Street, Suite D Lebanon, PA 17042-1140
(717) 995-8963
Source: Marzzacco Niven & Associates