Mark Christensen of New Hampshire Stresses Importance of Digital Technology in Schools
Press Release
•
updated: Aug 1, 2017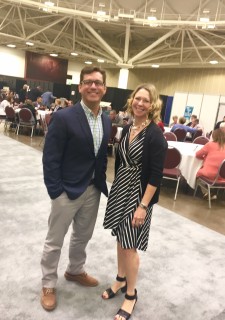 NEWPORT, N.H., August 1, 2017 (Newswire.com) - Dr. Mark Christensen, NH is an experienced and highly respected educator. Starting his career as a classroom teacher, he eventually completed an MBA in Marketing and an Ed.D. in Curriculum and Technology. He later got hired for management work that focused on school administration, marketing communications, and finally, educational technology. He now wants to emphasize the importance of digital technology in schools.
Just like everything else, the field of education is going through change. Thus, educational leaders must be able to keep up with modern technology. In fact, they should be the ones pioneering new solutions to promote their school, better engage their students, and continue to have connections with graduates. However, Christensen warns that digital technology must be properly implemented if it is expected to have the desired positive effects.
Using Technology to Better Connect With Students
For Mark Christensen, NH, ensuring that children can get the best possible education is key and that one of the key factors to achieve this is for schools to become better at connecting with students. The result is that they clearly demonstrate what they have to offer while building good relationships with students. However, being "connected" is something that many school leaders continue to find difficult to do. Dr. Christensen, NH believes that such is the result of not having the courage to embrace change, and not properly engaging students and their families during the enrollment process. Fortunately, such issues can be resolved by increasing and properly managing a school's online or digital footprint.
How Schools Can Enhance and Manage Their Online Footprint
During his career, Dr. Mark Christensen of NH has seen technology make significant strides and become an increasingly integral part of everyday life. Yet, he has noted that schools have been slow in properly implementing new technology. When utilized in the right way, modern technology can result in better student engagement, to promote what the school can do for the students, and to connect with alumni at the same time. To achieve this, Christensen believes seven key features must be maintained at all times.
First of all, school leaders must take charge of how the establishment is perceived. Second, they must then take back control of the school's brand. Third, their goal should be to create a sense of community by interacting with key players. Fourth, any information that is sent out through technological means should be delivered in a timely manner and should be relevant. Fifth, they should commit to sharing all important information as widely as possible. Sixth, they should be aware of the fact that they are watched at all times when online. The seventh and last important issue is that they must manage and organize their online content in the right way.
The Importance of Responsive Web Design
A key issue that Mark Christensen of New Hampshire believes many educational establishments are not aware of, is the value of responsive web design. This allows students to access all the information about the school that they are interested in by using their mobile devices, including smartphones and tablets. When responsive web design is implemented, the viewing experience is consistent, regardless of what kind of device someone is using to access the school's website. This also requires the rethinking of the information that is provided on a website, and how it is organized. Mobile devices usually have smaller screens, which means they cannot have a huge and lengthy menu at the top of the page, nor do people want to scroll up and down whenever they have a new query.
Why Schools Need to Implement New Technology
The world has become digital and school leaders must learn how to embrace this change. It is in educational establishments where trends are set, which are then brought along to the workplace by the next generation of alumni. Schools, therefore, must continue to adapt to new technology, as they have had in the past, and they must continue to be the innovators in society.
For Dr. Mark Christensen, NH schools that fail to make full use of technology are missing out. And when schools miss out, the students will miss out too. By properly implementing new digital solutions and tools, and by ensuring that they utilize the tools that are already available, such as social media and responsive web design, schools make themselves more attractive to prospective students, who in turn will have a better opportunity at obtaining a world-class education. As an added benefit, it encourages the building of a community that alumni would feel proud to be a part of for the rest of their lives.
Source: Dr. Mark Christensen, NH
Related Media