Marco Marco Underwear Will Enchant the Crowd at Magic
Press Release
•
updated: Feb 16, 2016
Men's Underwear from popular fashion designer Marco Marco will be presented at this year's Magic convention. The high-end designer also makes jockstraps, boxer brief and a wide variety of other apparel.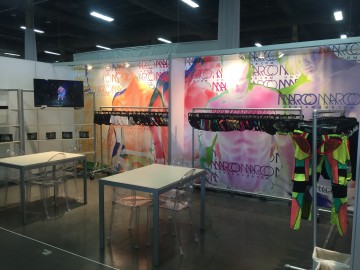 Las Vegas, Nevada, February 15, 2016 (Newswire.com) - Marco Marco, the famed fashion designer, announced that he will be showcasing his latest creations at this year's Magic convention. The Mandalay Bay Convention Center is hosting the event from February 16 through February 18.
Attendees will have the chance to purchase Marco Marco's high-end designs that range from mens briefs to jockstraps and even leggings. Marco Marco commented on the event by saying, "We've never put our product out there in this way. This is a huge opportunity for us, and we can't wait!"
When speaking about the event, Marco Marco said, "This week is gonna be great for meeting new prospective buyers from all around the world. Our appointment book is filling up fast, and we are looking forward to all the new faces."

Marco Marco, Designer
Marco Marco has designed apparel for famous performers like Katy Perry, Fergie and Britney Spears. He opened his first design studio in the heart of Hollywood during 2003. In 2013, Marco Marco Underwear appeared on the scene. The famed designer spotted an opening in the market and responded by creating high-end underwear that featured quality construction. After launching his underwear line, Marco Marco decided to present his designs at the fashion weeks held in both New York City and Los Angeles.
Marco Marco develops his underwear line by channeling his refined design sensibilities. Consumers will see the designer's touch in every set of underwear and even in the brand's jockstraps. He works to create apparel pieces that deliver the perfect feel, look and fit. Even when Marco Marco is designing the most fundamental clothing item, he taps into the same passion and skill required to develop pieces for his famous clients. Because Marco has spent years in the fashion industry, he has a unique relationship to the human body by viewing it as a canvas to display his art. He understands how the body moves and how clothes should fit it. Marco Marco Underwear is created and manufactured in Los Angeles.
For the Magic convention, Marco Marco will be joined by others in the fashion industry. He said, "This is my first time back to Magic in almost 10 years! So excited to see how much this show has grown!" Magic is the biggest fashion marketplace in the world. It features 11 distinctive communities that present cutting-edge apparel, accessories and footwear designs. In February and August, the retail industry assembles in Vegas to see and buy the latest fashions for men, women and children. When speaking about the event, Marco Marco said, "This week is gonna be great for meeting new prospective buyers from all around the world. Our appointment book is filling up fast, and we are looking forward to all the new faces."
Related Media