Marching to End Drug Abuse in Russia
Press Release
•
updated: May 17, 2017
Scientologists from St. Petersburg bring the truth about drugs to their city to reverse their city's deadly addiction crisis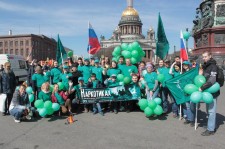 St. Petersburg, Russia, May 17, 2017 (Newswire.com) - According to a 2014 study in The Lancet UK medical journal, vodka is responsible for the high rate of premature deaths of Russian adults: "By west European standards, Russian adults, particularly men, have a very high risk of premature death, which has fluctuated sharply in recent decades. At 2005 mortality rates, for example, only 7% of UK men but 37% of Russian men would die before the age of 55 years. Strong alcoholic drink, mainly vodka, is a major cause of the high risk of premature death in Russian adults."
The country is also plagued with heroin addiction. A 2013 government report estimated 8.5 million people, almost 6 percent of the population, are addicted to drugs. Some 90 percent of these addicts abuse heroin at least part of the time.
Active in drug education and prevention throughout the year, the team promoted drug-free living in the city's annual May Day parade. They provide drug education lectures and organize events to bring the truth about drugs to the youth of their city before they become involved in substance abuse.
Read the article on the Scientology Newsroom.
Source: ScientologyNews.org
Related Media