​MAP Digital: Virtual Events, Simple and Ready-to-Go
Press Release
•
updated: Mar 10, 2020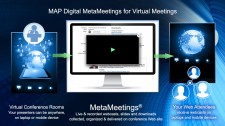 NEW YORK, March 10, 2020 (Newswire.com) - Amidst the urgent response to the COVID-19 coronavirus, companies have either canceled conferences or postponed them indefinitely. It is uncertain how long this situation will last, but the need to meet, communicate and share ideas remains imperative.
Fortunately, MAP Digital has a simple virtual events platform to keep the world connected.
MAP Digital has programmed a simple tweak to the MetaMeetings platform that expanded its ability to provide remote/virtual conferences while not impacting cost. Now speakers can present from around the world by calling into Virtual Conference Rooms. MAP Digital can extend the presentations to the conference's MetaMeetings website. The Virtual Events platform can support a combination of on-site and remote speakers presenting at the same conference. All presentations can be recorded for on-demand use and post-conference content distribution.
Necessity is indeed the mother of invention. It took this emergency for MAP Digital and its clients to think differently about how to continue to communicate effectively with their attendees throughout this crisis.
Please contact MAP Digital for more information on Virtual Events.
MAP Digital: MetaMeetings®
For over 20 years, MAP Digital has fused the digital space to financial services and CEO conferences. Headquartered in New York City, MAP Digital produces events globally. MAP Digital's MetaMeetings platform elevates and enriches the attendee's conference experience with live webcasting and amplified content that captures ephemeral behaviors as quantifiable data.
Contact Information:
Mary Ann Pierce
(917) 549 - 4856
map@mapdigital.com
www.mapdigital.com
Source: MAP Digital