ManagedMethods Wins 2019 Stratus Award for Cloud Computing
Cloud application security provider named global leader by Business Intelligence Group
Press Release
-
updated: Oct 10, 2019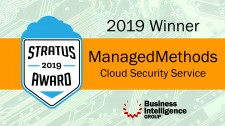 BOULDER, Colo., October 10, 2019 (Newswire.com) - ManagedMethods, a leading provider of cloud application security solutions, today announced it has been named a winner in the 2019 Stratus Awards for Cloud Computing by Business Intelligence Group.
ManagedMethods's cloud application security platform is built specifically for IT and InfoSec managers of organizations with limited budgets addressing this new cloud security landscape. ManagedMethods's mission is to secure the sensitive personal information and financial futures of tens of millions of school children, businesses with big ideas and people working to make our communities a safer place.
"IT teams are becoming increasingly aware of the unique security risks and access challenges cloud computing is creating," said Charlie Sander, Chief Executive Officer of ManagedMethods. "Our mission is to make it possible for organizations to realize the benefits of cloud applications without exposing themselves to these security risks, and we're proud of the work we've done to date in developing an industry-leading cloud security technology that empowers IT teams in need of such solutions."
School districts are increasingly embracing cloud applications, including Google G Suite and Microsoft Office 365. As a result, they have become prime targets for cyber threats that have led to millions of records being exposed and thousands of data breach incidents. Today, ManagedMethods secures over 1,000,000 cloud app user accounts in over 500 schools in the U.S. and Canada. K-12 IT teams are increasingly switching to ManagedMethods due to the company's excellent data security tools, affordability and top-rated customer support.
"ManagedMethods is at the forefront of cloud security, helping to drive practical innovations in the cloud," said Maria Jimenez, Chief Nominations Officer of Business Intelligence Group. "The cloud is now part of the fabric of our personal and professional lives and we are thrilled our volunteer judges were able to help promote all these innovative services, organizations and executives."
To learn more about ManagedMethods and its award-winning Cloud Application Security Platform (CASP), please visit ManagedMethods.com.
About ManagedMethods
ManagedMethods is a leading provider of cloud application security solutions for K-12 school districts, mid-market companies, and local governments. ManagedMethods provides an award-winning solution that empowers organizations with full and continuous control of cloud application data, including Google G Suite and Microsoft Office 365.​
ManagedMethods makes cloud security easy — no proxy, no agent and no special training needed. ManagedMethods' API-based cloud security solution helps organizations gain data security against internal and external breaches by leveraging AI and machine learning-powered threat detection. ManagedMethods protects cloud applications against malware and phishing schemes, and detects abnormal behavior to prevent account takeovers. For more information, please visit ManagedMethods.com.
About Business Intelligence Group
The Business Intelligence Group was founded with the mission of recognizing true talent and superior performance in the business world. Unlike other industry and business award programs, business executives judge the programs. The organization's proprietary and unique scoring system rewards those companies whose achievements stand above their peers.​
Source: ManagedMethods
Share:
---
Categories: IT Security
Tags: application security, casb, cloud access security broker, cloud security, data loss prevention, data security, google security, K12 cybersecurity, office 365 security
---