Major League Baseball's Authentic Collection Adds Warriorblack
Press Release
•
updated: Aug 21, 2018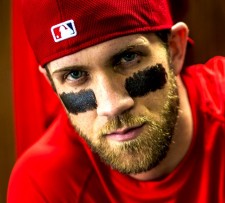 NEW YORK, August 21, 2018 (Newswire.com) - Anti-glare company, Warriorblack, LLC, is excited to announce Major League Baseball (MLB) has approved and licensed the company's product under the prestigious "MLB authentic" collection, as its on-field eyeblack provider through the 2021 season.
The New Jersey-based company will immediately start supplying its eyeblack, which is proudly manufactured and distributed in the USA, to each of the 30 MLB teams and looks forward to all MLB players enjoying the many benefits of its anti-glare product. Warriorblack was started by cosmetic industry professionals and was created to be the highest quality formulation in its category, with easy-glide and long-lasting properties. The products also incorporate moisturizers (Aloe & Vitamin E) and Caffeine (antioxidant) to enhance the experience for athletes and were carefully blended to ensure the colorant does not separate from the formula to give a uniform and deep coverage.
Our eyeblack was literally developed and tested on Major League Baseball fields by Bryce Harper and it couldn't be more appropriate to proudly be designated and display the MLB Authentic logo.

Dennis Anderson, President
The Authentic label is attributed to MLB superstar and business partner Bryce Harper, who joined the upstart based solely on receiving and trying a sample of the product in the trial stage. At the time of formula development in 2012, then MLB Rookie of the Year actively tested and critiqued the product to meet his expectations which included the particular needs of athletes wearing contact lenses, and was instrumental in creating the product he endorses. Introduced into the marketplace with select retailers in 2014, the product launched is exactly what the six-time All-Star and 2015 NL MVP wears on the field. The popularity and recognition of the product led Warriorblack to venture into other sports such as football, hockey, and lacrosse.
"We are excited to be partnering with Major League Baseball," said Dennis Anderson, President of Warriorblack. "Our eyeblack was literally developed and tested on Major League Baseball fields by Bryce Harper, and it couldn't be more appropriate to proudly be designated and display the MLB Authentic logo."
Media Contact:
John Pyrzenski
john@warriorblack.com
Source: Warriorblack, LLC
Additional Links