Major Cranial Reconstruction Using OssDsign Technology: Case Report Published in Journal of Neurosurgery
Press Release
-
updated: Sep 20, 2018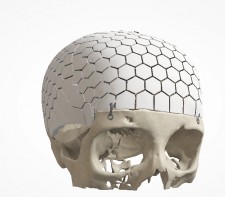 UPPSALA, Sweden, September 20, 2018 (Newswire.com) - On September 14, the renowned Journal of Neurosurgery published a case report of a patient operated at Uppsala University Hospital in June 2017. As reported previously in Swedish media, the case involved removal of more than 70% of the patient's cranium, which was replaced by a specially engineered implant from OssDsign who also designed complex drawing guides and an advanced pre-planning kit for the optimal surgical outcome. 6-month post-operative follow-up of this near-total cranioplasty showed a good cosmetic outcome, an increase in the intracranial volume of 17.1%, and no clinical signs of infection.
OssDsign's CEO Anders Lundqvist says:
"We are extremely thankful to play a part in making a difference for this patient's life. The successful outcome of this case represents an example of effective collaboration between the clinical team and OssDsign, working jointly on the pre-operative planning to ensure the optimal solution for the patient in a challenging case such as this."
The article is available ahead of print in the online version of the Journal of Neurosurgery: http://thejns.org/doi/full/10.3171/2018.4.JNS1850
For further information, please contact:
Anders Lundqvist, CEO, OssDsign AB
Phone: +46 73 206 98 08, email: al@ossdsign.com
About OssDsign
OssDsign is a Swedish medtech company dedicated to creating regenerative implants for improved healing of bone defects. OssDsign provides neurosurgeons and reconstructive plastic surgeons around the world with an expanding range of innovative implant solutions for improved patient outcomes.
OssDsign's technology is the result of collaboration between clinical researchers at the Karolinska University Hospital, Stockholm, and material science experts at the Ångström Laboratory at Uppsala University. 
For more information: www.ossdsign.com
Source: OssDsign AB
---
Categories: Healthcare and Medical News
Tags: clinical data, cranioplasty, innovation, neurosurgery
---