Magnet AXIOM Cloud Now Available for Data Extraction and Analysis
Office 365, Google, Facebook, iCloud Services and More Supported
Press Release
-
updated: Sep 18, 2017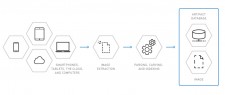 HERNDON, Va., September 18, 2017 (Newswire.com) - Magnet Forensics, a global leader in developing digital investigation software for smartphone, cloud, and computer examinations, has launched Magnet AXIOM Cloud for recovering and examining digital evidence from cloud services and social networks. Magnet Forensics is the first digital investigation software provider to offer cloud forensics that integrates seamlessly with smartphone and computer forensics.
AXIOM Cloud can be used in conjunction with AXIOM Smartphone and AXIOM Computer to combine all digital evidence from an investigation into a complete case file for analysis,  discovery, and sharing.
AXIOM Cloud is also the only solution available that supports two-factor authorization for Google and iCloud services. Two-factor authentication is an additional security layer protecting access to user accounts in addition to their username and password. AXIOM Cloud leverages the AXIOM platform's collaboration capabilities so that the entire case and all findings can be shared with broader teams and stakeholders for review and input.
"There is a lot of potentially important information resting in the cloud – from everyday services, IoT device and app data, enterprise documents, and more. We recognize that there will be a growing need to lawfully access and examine that data in certain investigations," said Jad Saliba, Founder and CTO of Magnet Forensics. "AXIOM Cloud not only helps teams retrieve digital evidence from the most popular cloud services, it also provides a suite of rich examination tools for deep analysis of the recovered data."
AXIOM Cloud is the only solution that leverages cloud, computer, and smartphone artifacts to examine cloud data. This unique capability allows examiners to extract cloud evidence regardless of the file type (e.g., .doc, .xls, .PDF) and pull more evidence from cloud sources than any solution.
Using AXIOM Cloud, you can extract data from a number of cloud services and social networks, such as:
iCloud
Google services (e.g. GSuite: Google Drive, Gmail, Google Photos, etc.)
OneDrive
DropBox
Office 365
Facebook
Twitter
Instagram
And more!
Magnet AXIOM helps at each stage of a digital investigation – from imaging devices and drives, to data recovery and processing, to data analysis, to reporting and collaboration. Features like Magnet.AI, for surfacing child luring conversation content, and Connections (launched today), which simplifies the discovery and visualization of relationships between files and artifacts and their activity, help teams find more evidence.
For more information on AXIOM Cloud, please visit magnetforensics.com/axiom-cloud.
-30-
About Magnet Forensics
Magnet Forensics is a global leader in the development of digital investigation software that acquires, analyzes and shares evidence from computers, smartphones, the cloud and more. Magnet Forensics has been helping examiners and investigators fight crime, protect assets and guard national security since 2011. For more information, please visit magnetforensics.com. Follow us on Twitter: @MagnetForensics and LinkedIn.
Media Contact
Victoria Berry, 519-342-0195 ext. 3462
victoria.berry@magnetforensics.com
Source: Magnet Forensics
Share:
---
Categories: Business Technology, Police Officers, Government
Tags: AXIOM, Cloud forensics, digital forensics, Magnet Forensics, mobile forensics
---