Madison County Red Raiders Join Georgia Elite
Press Release
•
updated: May 4, 2017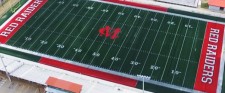 Madison County, GA, May 4, 2017 (Newswire.com) - At the official ribbon-cutting ceremony earlier this year, Madison County High School Athletic Director Mike Haynes had a smile from ear to ear. Haynes inaugurated the Red Raiders' new FieldTurf Revolution 360 system, the industry leader in durability, resilience and performance.
"This field is part of our guaranteed savings program, so it is ultimately saving the (school) system money," Haynes told reporters. "The surface at Raider Field is the same surface installed at Mercedes-Benz Stadium".
Proudly made in Georgia, FieldTurf has more than 100 installations across the Peach State, including high-profile fields at the University of Georgia, Georgia State University, the University of North Georgia, Robins Air Force Base and the Georgia Dome — Mercedes-Benz Stadium's 25-year-old predecessor.
REVOLUTION 360: THE FIELD OF CHAMPIONS
Named after the concept of completeness, the Revolution 360 fiber features optimal durability, resilience and feel.
Quickly becoming the most popular surface in North America, Madison County will join an impressive list of current users, which features CenturyLink Field, home of the Seahawks & Sounders; Gillette Stadium, home of the Patriots & Revolution; Mercedes-Benz Stadium, home of the Falcons and United; Portland Timbers; Princeton University; Toledo University; University of Texas at El Paso; and over 200 high school and community fields.
UNMATCHED DURABILITY
Independent testing by both Labosport and Penn State University rated Revolution 360 as the premier turf system on the market.
In fact, Revolution 360 is still the first and only fiber in the industry to score an 83 on Labosport's Fiber Performance Index, the first true measurement of fiber quality, and the only one to receive a perfect 10 — 10 "good," NO "hair-splitting," NO "fractured," NO "complete splitting" after Penn State University's Sports Surface Research Center's aggressive 150,000-cycle Lisport Wear Testing.
Source: FieldTurf