Made in Nature Unleashes Its Full Line of New Organic Supersnacks™
Press Release
-
updated: Jun 23, 2016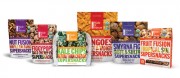 Boulder, CO , June 23, 2016 (Newswire.com) - ​​​​​​​​​​​​​​Taking on the Snack Category With Products That Fuel You Up!​  Made In Nature™​, the leader in healthy, organic snacking is unleashing a new line-up of Organic Supersnacks™ in new bold packaging at the Fancy Food Show in NYC this week. Finally, consumers will not have to make the choice between what's healthy and what's delicious when it comes to filling the void between meals. Their organic, ready-to-snacks include a new line of Figgy Pops™, Toasted Coconut Chips, Dried Fruit Fusions, Fruit and Nut Fusions and Kale Chips.
 "We are a snacking nation. Over half of all US consumers snack more than three times a day to stay nourished. Our mission is to satisfy that hunger with delicious, ready-to-eat snacks made from real fruit and real vegetables, without compromising flavor or fun," said Doug Brent, CEO of Made In Nature. "We're taking on chips and bars and all those other so called "better for you" snacks that are merely masquerading as nourishment. Our Supersnacks don't just fill you up, they fuel you up."
As part of their attack on the healthy snack category, Made In Nature is launching an entirely new package design. Andy Nathan, CMO of Victors & Spoils who led the design process said, "The new packaging was a great opportunity to reintroduce Made In Nature to the world in a bold, new way. Inspired by their 'Nature Unleashed' brand positioning, the packaging design is strong and vibrant, highlighting the beauty of their unadulterated product. And because they're so grounded and authentic, we were able to  juxtapose that with a very cheeky tone in a category that sometimes takes itself a little too seriously." 
Life is too short to waste on sub-par snacks. The NEWEST addition to the Made In Nature family is their line of Organic Figgy PopsTM ($9.99 for 16 oz., $4.99 for 4.2oz.) These unbaked energy balls are real Supersnacks, bursting with flavor. Figgy Pops are a blend of organic figs and other luscious fruits with nuts and power seeds — covered in coconut with the crunch you crave. These delectable morsels are made with certified USDA organic, Non-GMO Project Verified ingredients and NO refined sugar, allowing consumers to power through their day the healthy way.
Made In Nature's Organic Toasted Coconut Chips are anything but ordinary! These zealously snappy, perfectly crunchy coconut chips ($3.99 for 3 oz.) are made from pure organic ingredients with NO refined sugars or artificial flavors. It's a snack that's energy packed and comes in a variety of exotic flavors like Maple Vanilla, Italian Espresso, Toasted Cinnamon, Ginger Chai and Spiced Cocoa. Permission to snack, granted.
Embracing the flavorful exotic food trend, Made In Nature also offers a line of Organic Fruit Fusions. Inspired by authentic, healthy flavors from around the world, the Fruit Fusion product line encompass both 1oz Single-Serve Dried Fruit Fusions (MSRP $5.99 for 5-pack and $1.49 for 1oz packets) and Fruit and Nut Fusions (MSRP: $6.99 for 5-oz bag). Both of these delectable products offer the perfect pairing between organic dried fruits and blends of seeds, spices and flavors. Fruit Fusions flavors include: Apple Cinnamon, Superberry, Tropical, and Mediterranean blends. Fruit and Nut Fusions flavors include: Maple Balsamic, Cinnamon Citrus, Pomegranate Ginger and Rosemary Harissa blends.
And Made In Nature really breaks the mold with their new line of dried, NEVER fried, Organic Kale Chips (MSRP $5.99 for 2.2oz). The perfect Supersnack to fuel your next adventure, these Kale Chips will light up your taste buds with a combination of organic kale and unique and outrageous spice blends. Flavors include: Bedda Than Chedda, Sriracha Chili, Olive + Sea Salt, Rosemary Truffle, and Stumptown.
Made In Nature is available nationwide at Costco, Safeway, Whole Foods Market, Walmart, Target, Meijer and wherever organic, healthy snacks are sold. To find out more about all of the Supersnacks from Made In Nature or to visit their store, please visit MadeInNature.com
                                                                                          ###
Made In Nature is a trailblazer in the organic food industry with a 25-year history of sourcing and creating snacks from real food with bold, vibrant and surprising, new flavors. The same old, same old has never been their style and that means kicking refined sugar to the curb and going all-out organic in everything they do. Made In Nature's Organic Supersnacks™​  are made without the use of GMO ingredients, sulfur synthetic preservatives, color or flavorings. Go to www.MadeInNature.com to view the company's full product line of Supersnacks™​ and Supersides™​.​​                                                                                                                                               
Source: Made In Nature
Share:
---
Categories: Food and Beverage Manufacturing, Active and Healthy Living, Beauty and Personal Care, Exercise and Physical Fitness, Parenting, Yoga / Meditation, Nutrition, Hiking and Backpacking
Tags: Fancy Foods Show 2016, Fancy Foods Show NYC, healthy food, healthy ingredients, healthy recipes, healthy snacks, micromeals, natural food, organic food, real food, snacking, Summer Fancy Foods Show
---