Luxury Apartment Website ManhattanScout.com Has Made a Shift and Rebranded as NYnesting.com
Press Release
-
updated: Aug 13, 2018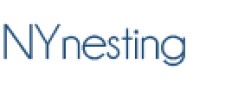 NEW YORK, August 13, 2018 (Newswire.com) - New York City's luxury apartment database Manhattan Scout, serving NYC since 2012, has rebranded itself and changed its name to NY nesting. This new domain name allows the company to extend its reach beyond the borders of Manhattan and fully encompass all of the exciting luxury real estate New York City has to offer.
While NY nesting has a database of nearly 2,000 luxury buildings, it plans to expand by an additional 1,000 by the end of 2019.
"Since launching in 2012, we've had plans to expand our reach into the outer boroughs. With our steady growth, we're now in a place where we can focus outside of our original idea and I'm excited for the new possibilities," says Leah Silverstein, general manager of NY nesting. "There is one thing we can guarantee: we'll always stay focused on the luxury real estate market of New York City and its five boroughs."
Brooklyn will be the first borough in which NY nesting will be expanding and adding new premium locations. NY nesting has always focused on luxury buildings and neighborhoods that experience blazingly fast development and growth, like Brooklyn's Dumbo. Several properties have a higher price per square foot than many neighborhoods in Manhattan. The median sales price in 2017 was over $2 million, which is nearly double the median price in Manhattan. Rentals are also catching up fast, with neighborhoods like Fort Greene, Dumbo, Brooklyn Heights and Cobble Hill having an average rental price of nearly $3,500 compared to Manhattan's $4,000.
The next phase of expansion will reach Queens with an initial focus on Long Island City, with its high density of new construction and a median sales price of over $1 million in 2017.
"An expansion to other cities is not currently in our plans," said Silverstein. "Yes, there are other exciting luxury real estate markets around the country like Miami, San Francisco and Los Angeles, but we're based in New York City and that is where we will keep our focus for the time being."
About NY nesting: The real estate market in New York City is one of the largest in the world; exciting, dynamic and ever-changing, which is why it's so important to have the right guidance from the start. NY nesting aims to connect home buyers and renters with top real estate brokers and agents to make the search for a home an easy and transparent process. NY nesting, with its comprehensive and detailed website, will be the go-to page for luxury apartment seekers and home buyers not just in Manhattan, but citywide.
Launched in 2012, NY nesting is based and developed in Manhattan.
For more information, please visit https://www.nynesting.com/.
Contact info:
Name: Leah Silverstein
Email: leah@nynesting.com
Phone: (212) 363-0940
Organization: NY nesting
Address: 350 5th Ave, New York, NY 10118
Source: NY nesting
---
Categories: Real Estate, Business News
Tags: apartments, condos, real estate
---